Subscription: Access to Micro Counts of US indices
TVIX - the structure of the last pullback looks corrective
Once you get a nice bottoming structure ( the important extensions are hit AND the micro structure is in place) you start build a LONG position. If it drops deeper into the green target box you should be prepared to add especially on a gap down making a new lower low into the green target box. This is a kind of a setup we got yesterday at open. Yesterday TVIX opened at 19.40 after close at 20.33 on Tuesday. That was a textbook example of an exhaustion gap down.
Then we got the expected spike up. When you get a spike you book profit and wait for a pullback to reload if structure of the move up looks impulsive (subdivedes into five waves) or you have a nice A-B-C up where wave A and C have a clean impulsive structure.


Please scroll below and I will show you what I do not like in the structure of the bounce we have got and why I do not reload TVIX on this move down.
TVIX - 120 min chart updated at 12:37 PM on 4/18/2019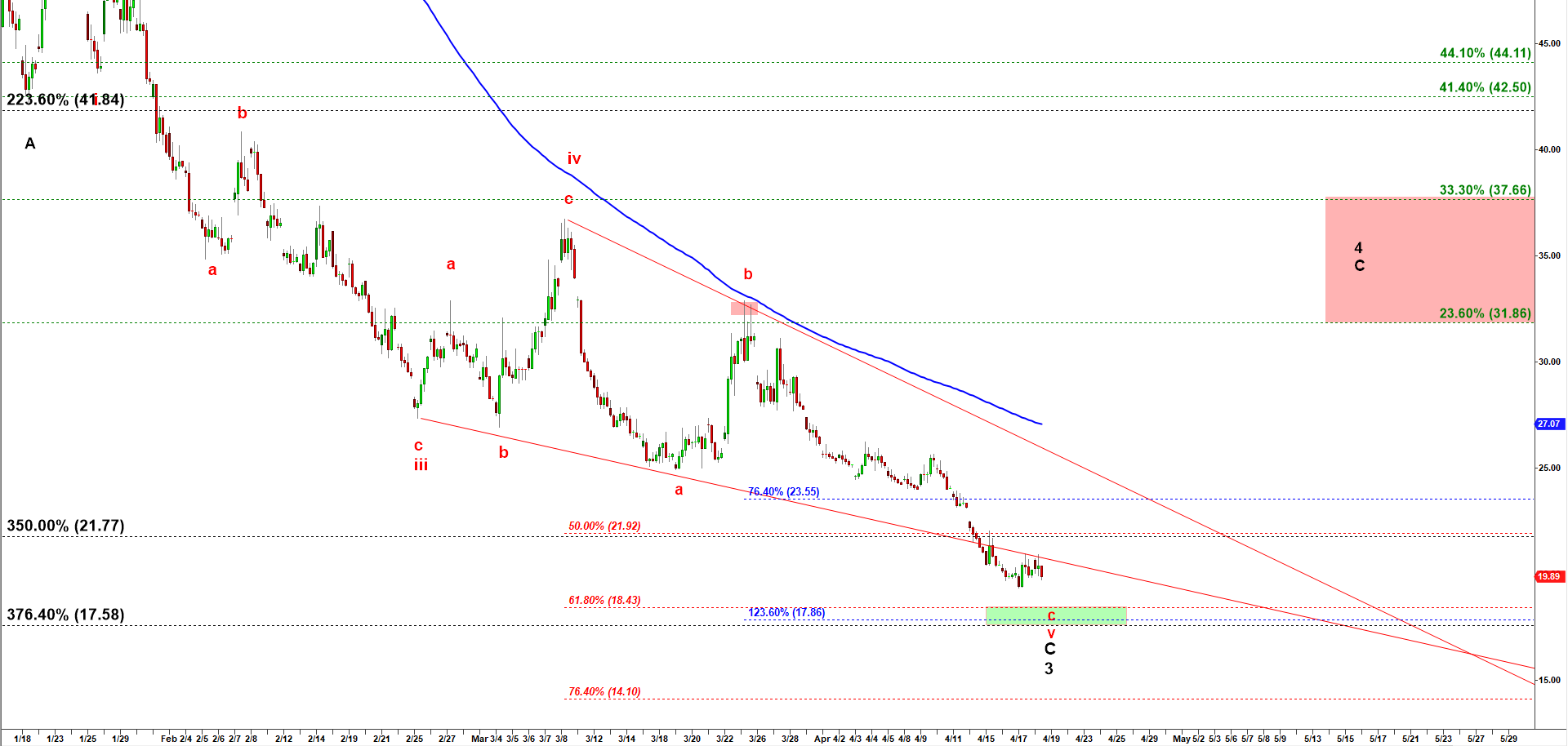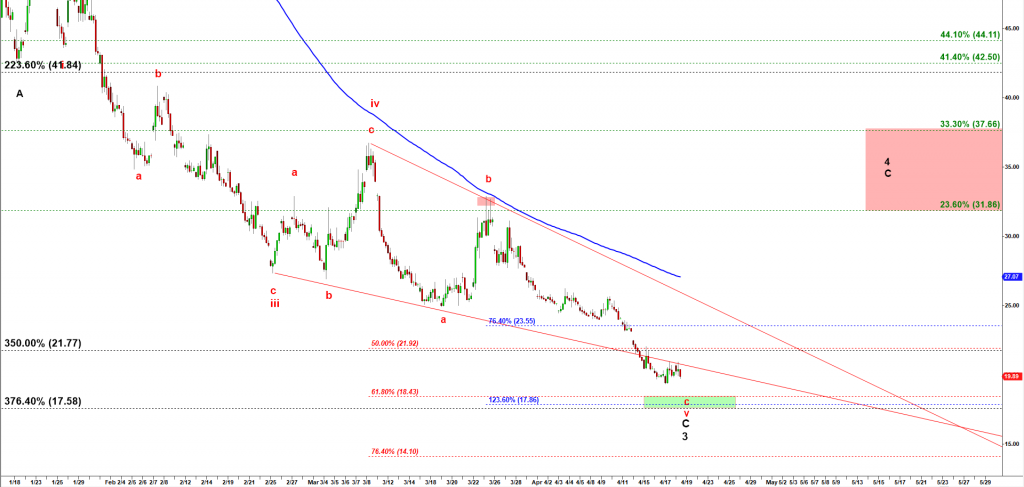 The structure of the spike off the Wednesday's low looks corrective. First, you may see that neither wave A up nor wave C up has an complete five up micro structure. Second, wave C up failed to extend even to 100% extension of the wave A up. Normally it stretches to 123.6% ext or 176.4% ext. That is why I count that spike as another corrective bounce before the final push up lower. That lower low would reset the count and TVIX will try to go up again and may be that time it will show its strength with a nice impulsive looking pattern. I will be a buyer when TVIX hits a new lower low.
Folks, I am going to offer subscription to my private educational chat to people subscribed to my web site. In my chat I post more updates and discuss in details what is going on in the market, what we should pay attention to and teach people how to apply Harmonic Elliott Wave Theory. This is what my current subscribers wrote:
"I've been following CastAwayTrader for several years. First on another trading service, then on Twitter and now on here. I've been taking his training classes which I take notes on to look back on when I have questions. I really started trading using his advice on trading metals and miners. Following CastAwayTrader last year really helped me turn my account around. By listening to him I was double my account to close to 1 million dollars in about a 6 month timeframe. I like how he does things. He's cautious in his trades and he explains things in great detail. I like how he doesn't hesitate to answer questions if you have them and will go out of his way to explain things through a private chat and charts. I personally like how he does things and will be a long time subscriber here.
I was able to double!"
"castawaytrader has shown me in just a few weeks the importance of having a game plan, sticking to the plan, patience and waiting for the set-up to place your trade in the target zone. before joining I would leap into a trade like volatility way too early but now i am able to wait, buy at the right time and increase my chances for a nice profit. as a rookie trader castawaytrader has been great in providing training, daily updates and real time feedback. what more can you ask for in a room!".
"I use castawaytrader discord chat as my primary reference for understanding market direction and market structure. castawaytrader gives a clear visual reference with a clear explanation allowing traders and investors to have a clear expectation for the market direction and the developing structure. Castawaytrader is also always willing to analyze new securities, and give his thoughts typically with a prompt turnaround. After months of interacting daily with castawaytrader I have learned how to create my own valuable and consistent market views, and I also feel like I have gained a partner in the markets to help guide my trading.
TVIX - 5 min chart updated at 12:37 PM on 4/18/2019