$NQ #NQ #trading setup #Elliott Wave #triangle
NQ-mini has been a week in a directionless consolidation. When price gets stuck in a range we should immediately zoom-out and check the macro wave count.
Let's starts form a Bullish Macro scenario.
Bulls argue that the move up off the October'22 low has been following a five wave up impulsive structure.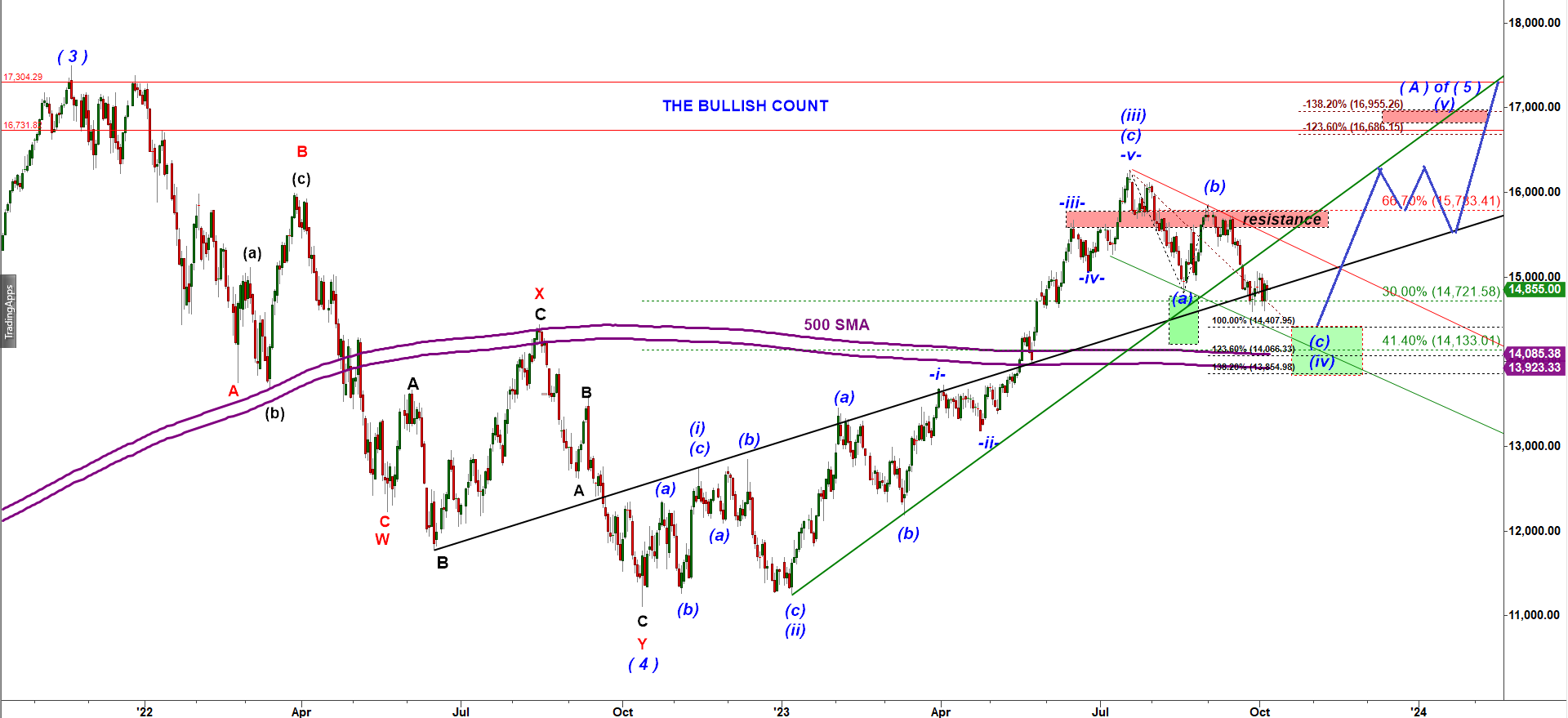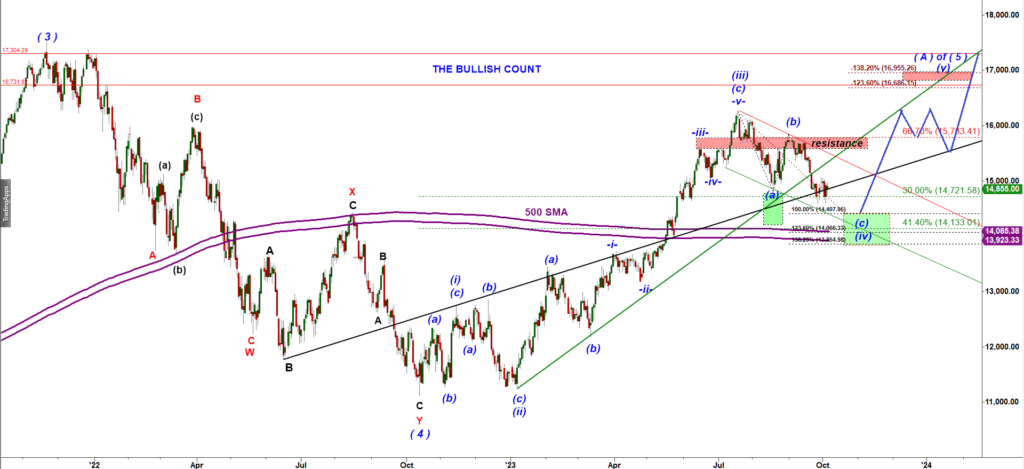 That bullish count assumes that the July'23 high was the top of a wave ( iii ) up. Then off the July'23 top NQ has been correcting in a clean (a) down, (b) up, (c) down structure of a corrective wave (iv) down.
That bullish count argues for another rally in a wave (v) up upon completion of that corrective wave (iv) down.
Now the key question is whether that wave (iv) down has actually bottomed.
Let's zoom-in to a 30 min chart: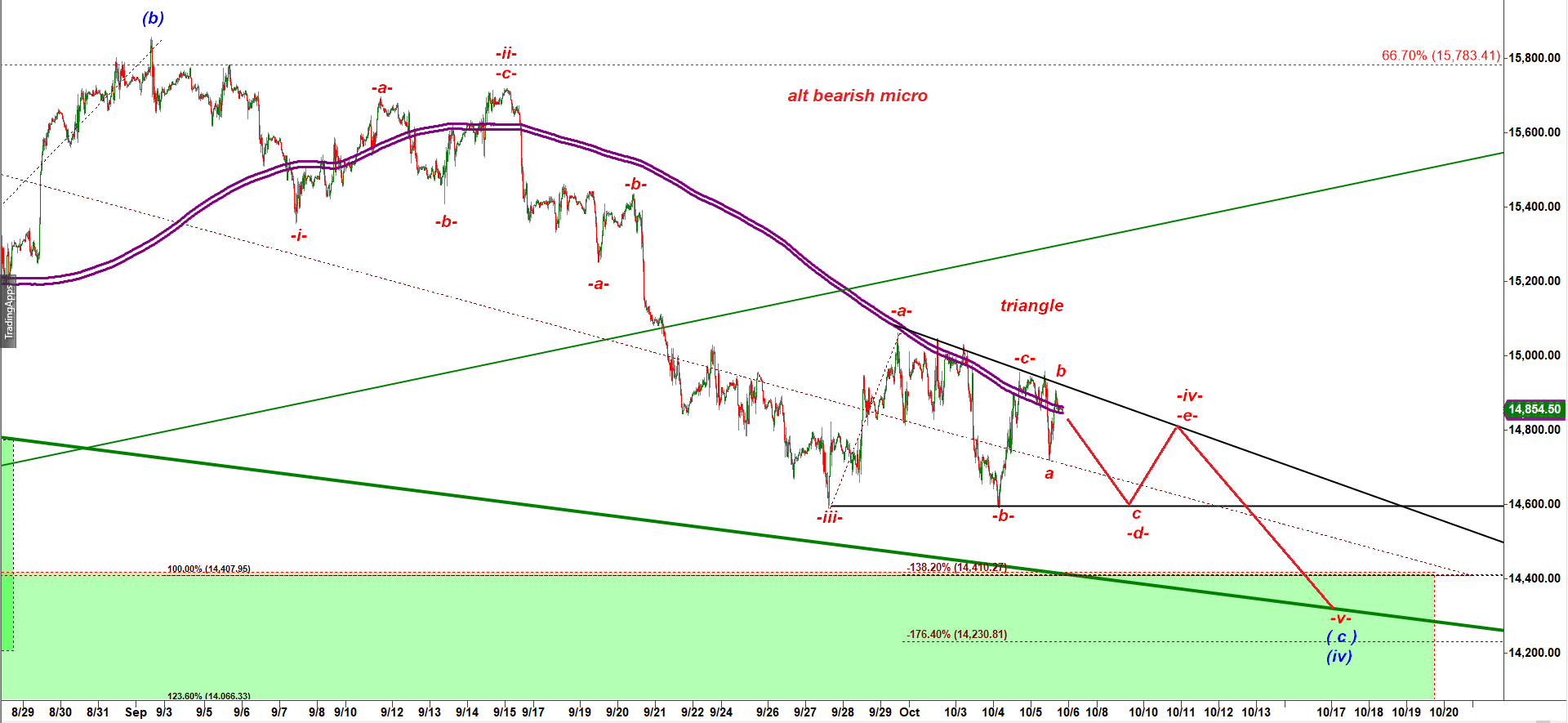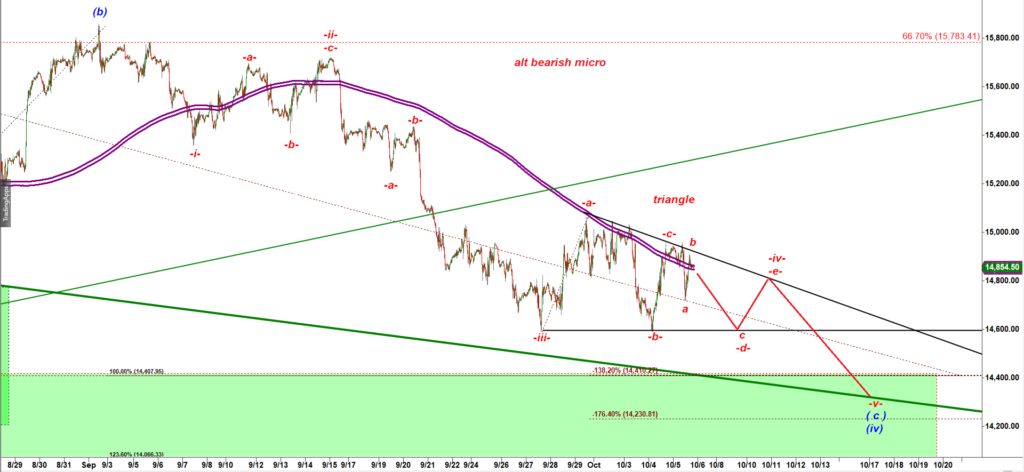 Under the bullish scenario the bottom of the corrective wave (iv) down is supposed to become a starting point of a new five wave up rally. So far we have not got any rally yet… That makes me think that the subwave (c) of wave (iv) down has not bottomed yet.
We can assume that the last low made at 14,586 on Sep 27th was the bottom of a micro wave -iii- down.
Then the whip[saw that followed has been a corrective wave -iv- up shaped as -a-b-c-d-e- triangle.
Upon completion of that triangle NQ should make one more dive to tag the lower green trend line (slightly under 14,400).
Now lets review the MACRO BEARISH COUNT: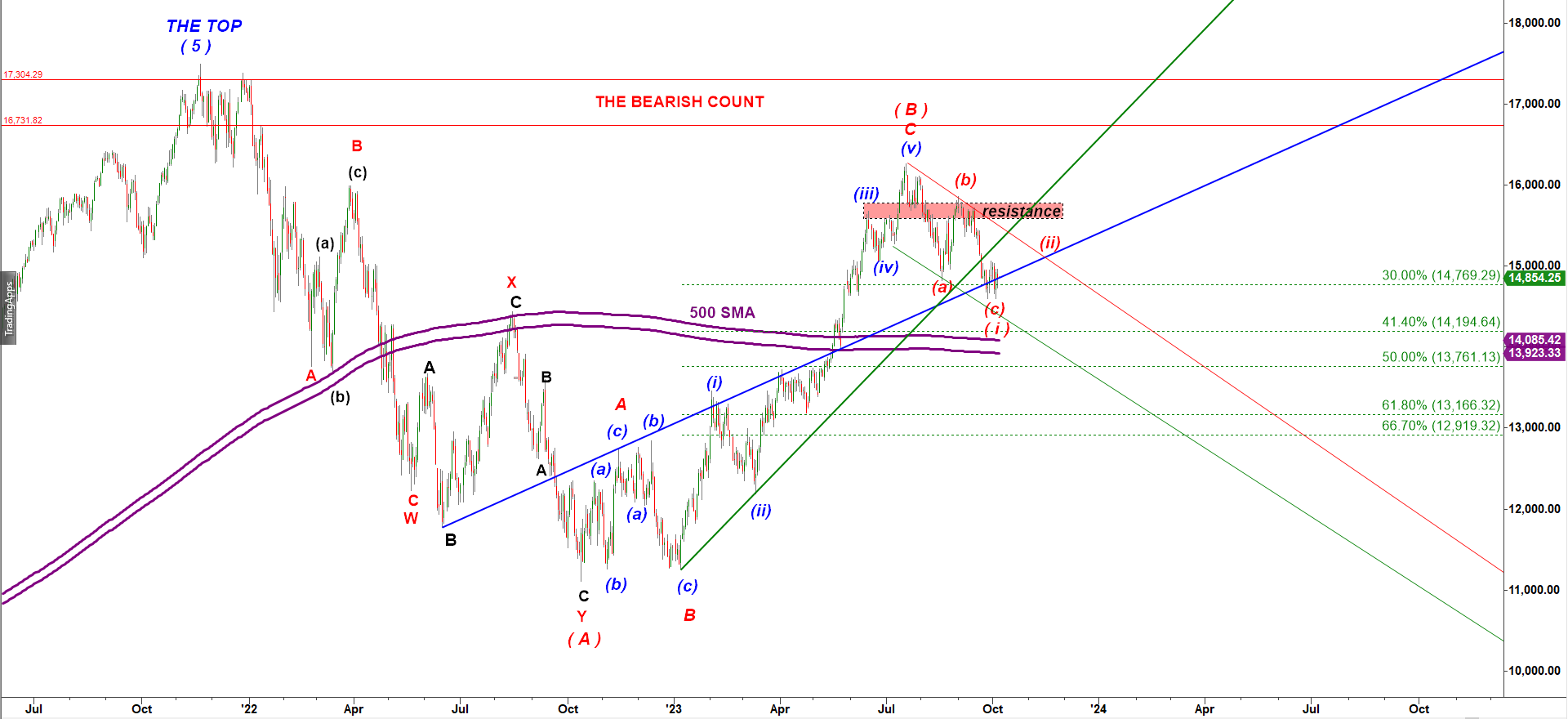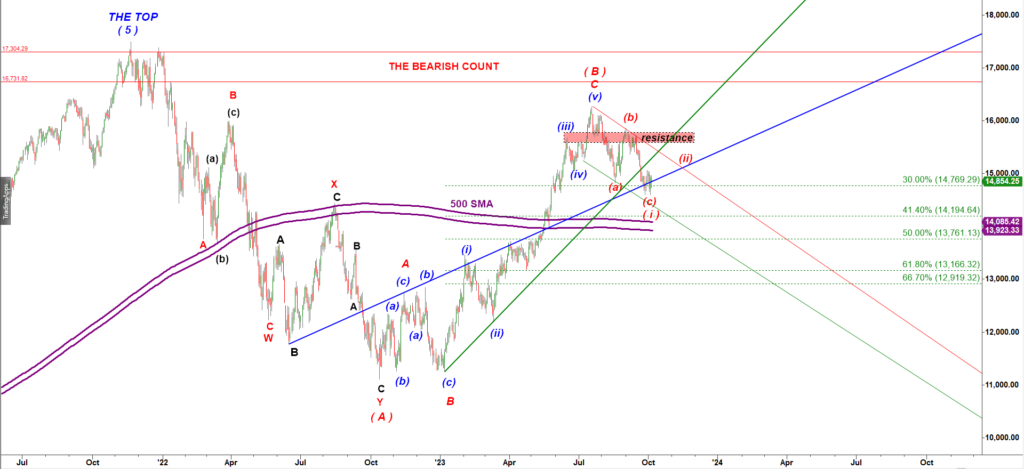 Under the bearish macro count NQ made two major tops, the first major top in Nov'21 and the secondary top in July 2023. That bearish macro count argues for a strong impulsive decline that should undercut the Oct'22 low. However, such strong moves down start from a micro (i) down, (ii) up setups.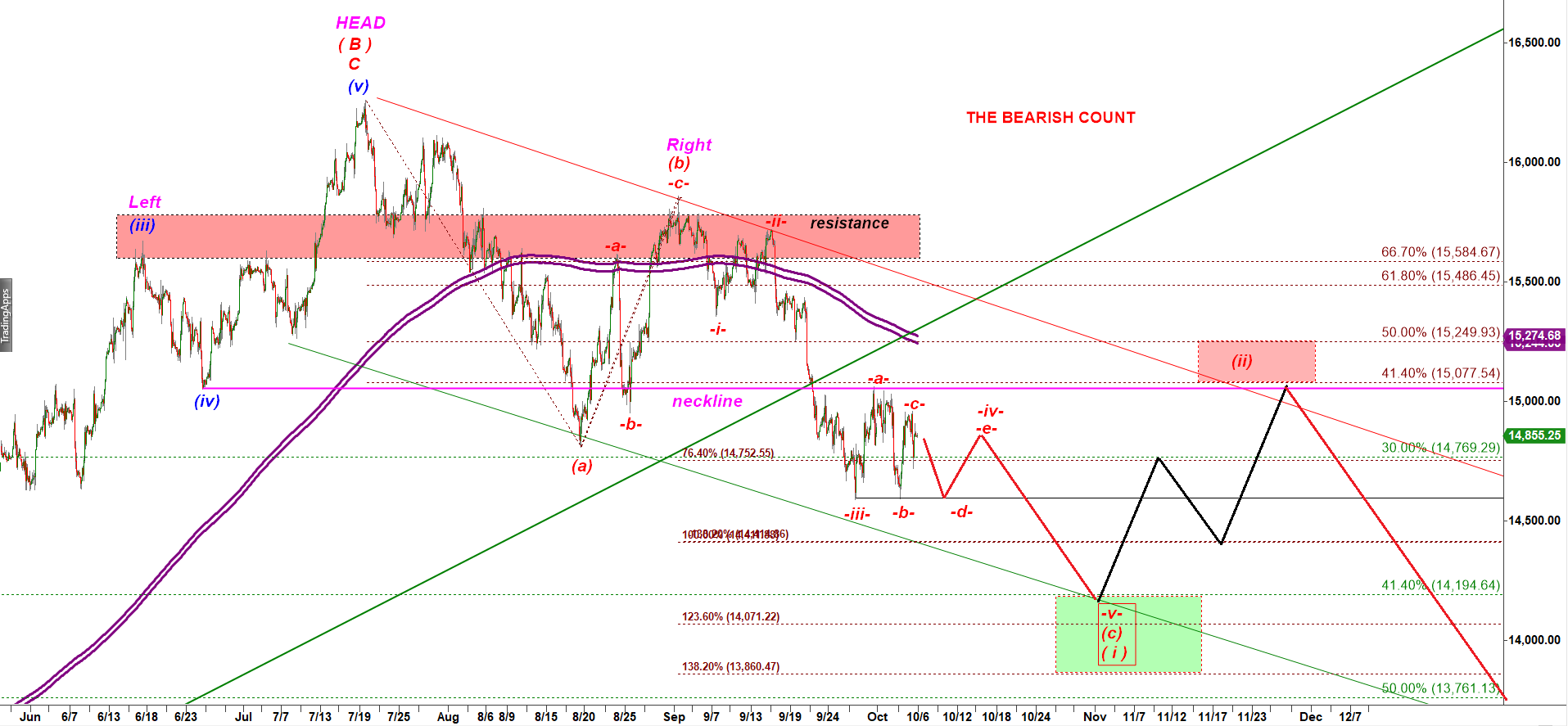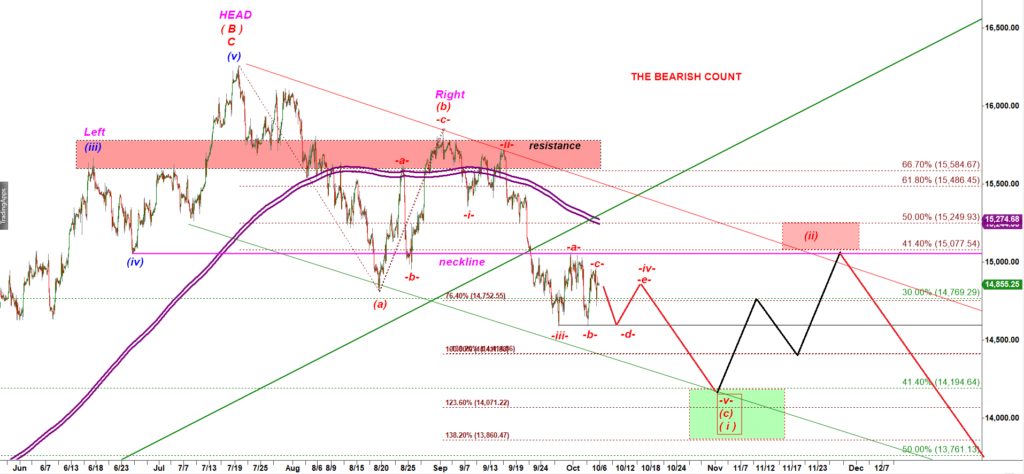 Again I can make a case that the Sep'27 low was the bottom of wave -iii- down and since then NQ has been consolidating in a shallow corrective wave -iv- up.
And again it really looks like that whipsaw has been a triangle shaped consolidation that requires a move down in a subwave -d- down to make a triple bottom at 14,589 and then pop one more time to 14,820 – 14,840.
If NQ plays that triangle. it should be followed by a strong decline down to 14,400 with potential extension down to 14,200.
That triangle scenario will get invalidated if bulls push NQ over 14,960.