$SPX #ES-mini #Elliott Wave #trading setup
Off the May 2023 low ES-mini produced a clean five wave up structure. That five wave up structure looks 100% completed: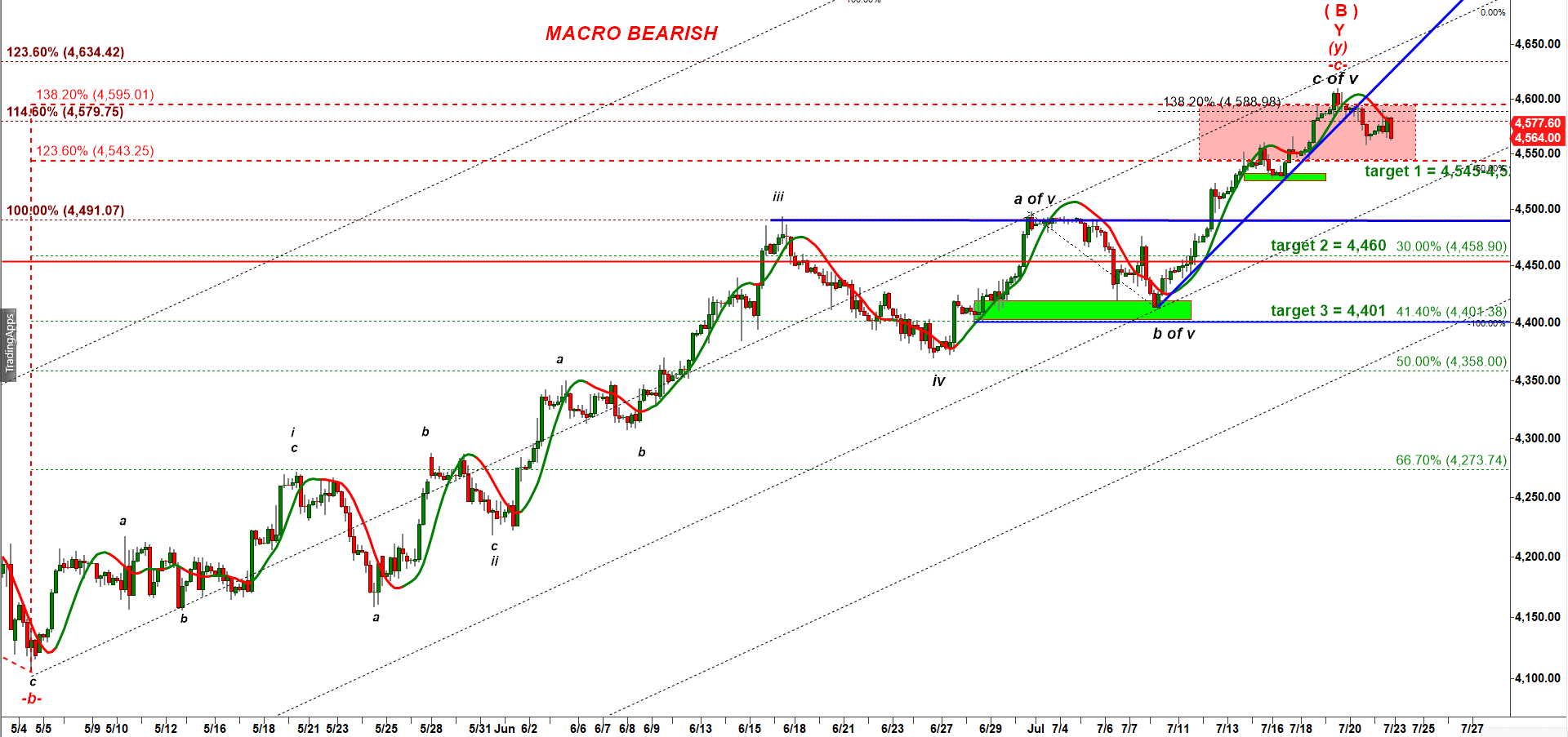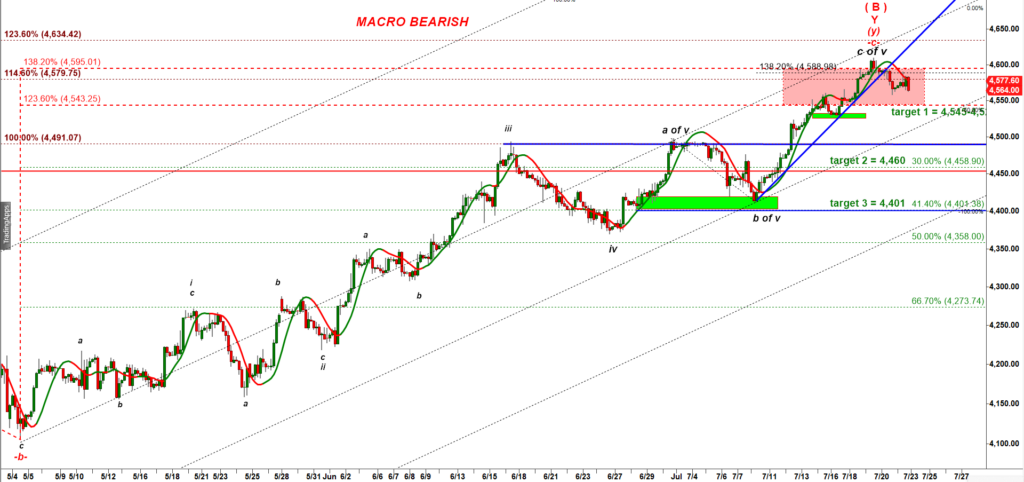 At the very least upon completion of a five wave up rally we should expect a corrective a-b-c down structure to test the low made by the previous pullback of the wave iv down. This is why I would expect bears to test 4,400 level during upcoming several weeks. The problem for bears is that a move down to 4,400 would not guarantee that a new large leg down in a wave (C) has started.
Below I will show you three different paths and two of them would be bullish ones leading to higher highs after a pullback down to 4,400.
Let's look at a weekly S&P 500 chart: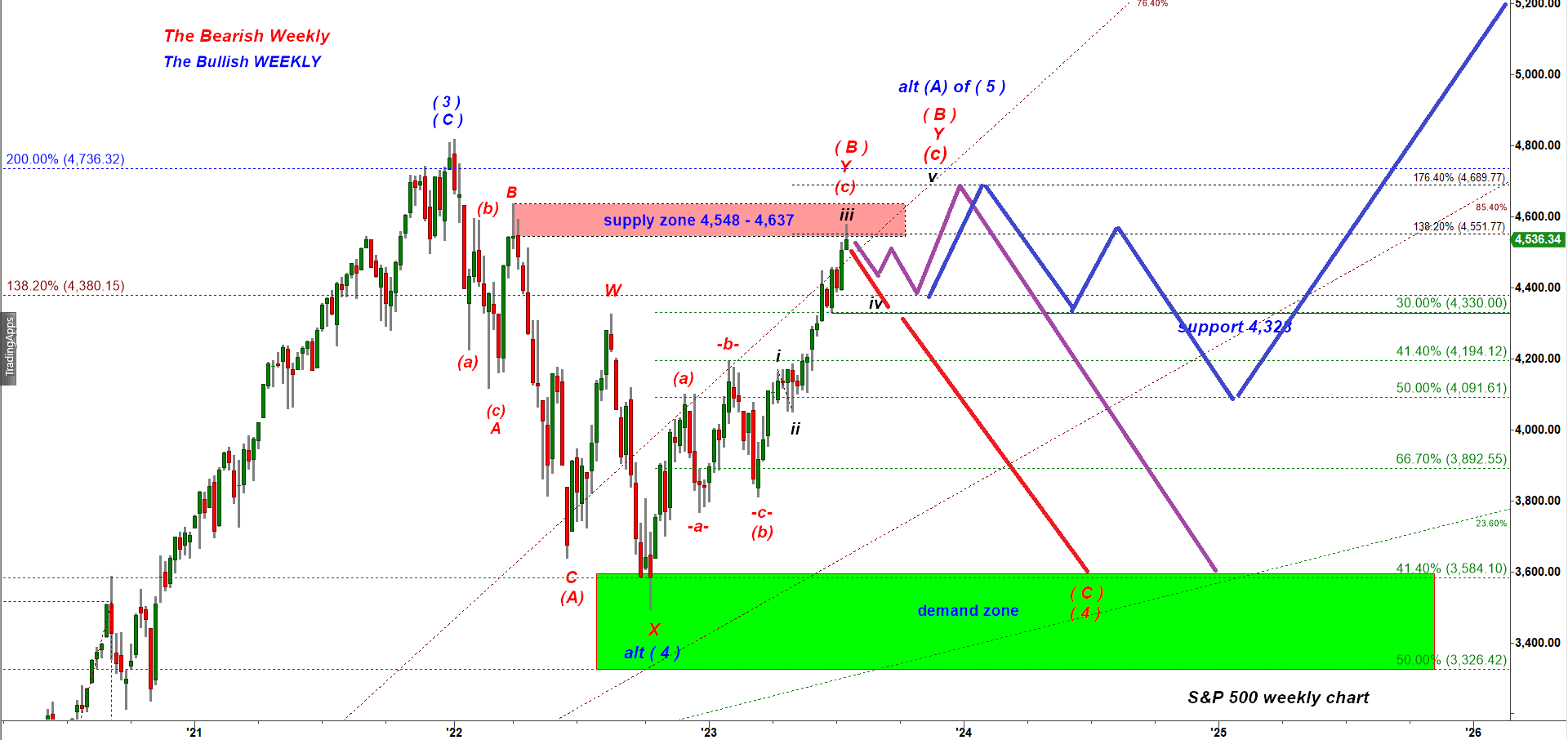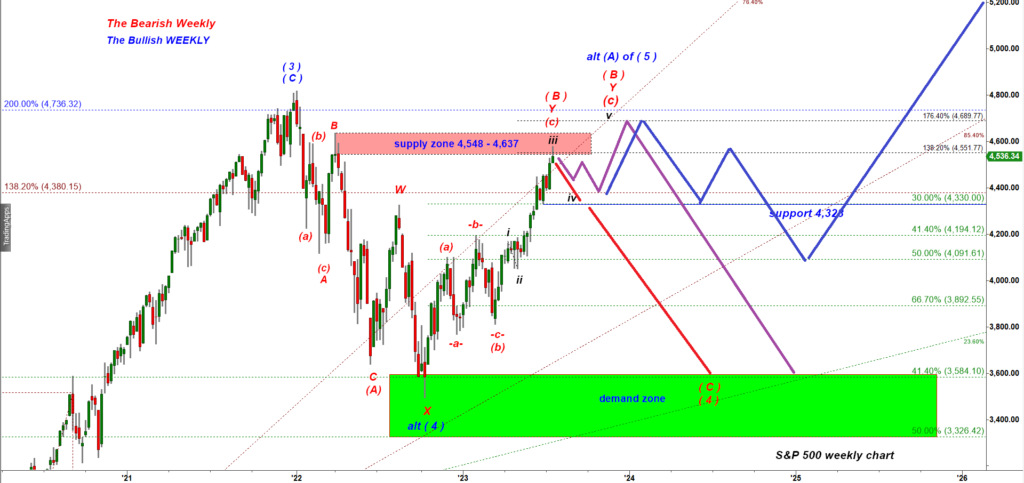 Under the Red bearish count bears have opportunity to start a new large leg up in a wave (C) down. To confirm that outright bearish scenario bears need to push ES-mini under 4,400, preferably under 4,350 in a straight down move.
Under the Magenta bearish count the wave (B) up has not topped yet. The July 19th top could be a top of a micro wave (iii) up. If we get a corrective looking decline that stops around 4,400 for ES-mini, 4380 for S&P 500 cash index that would be a setup for another push higher in a wave (v) up up to 4,690.
If bulls manage to make that one mush higher that would open the door for a very bullish blue path. Such a push higher to 4,700 could be counted as a subwave (A) of wave (5) up and should be followed by a flat A down, B up, C down consolidation in a subwave (B) down of wave (5) up. We can call that blue path the uber bullish scenario because it argues for the second leg up in a subwave (C) of wave (5) up that would push S&P over 5,200 with potential extension to 5,500+.
Now let's zoom-in to a micro 15 min chart of ES-mini:
So far we got a really small move down off the top and that move down does not have a completed micro structure:
The Potential Micro path (i):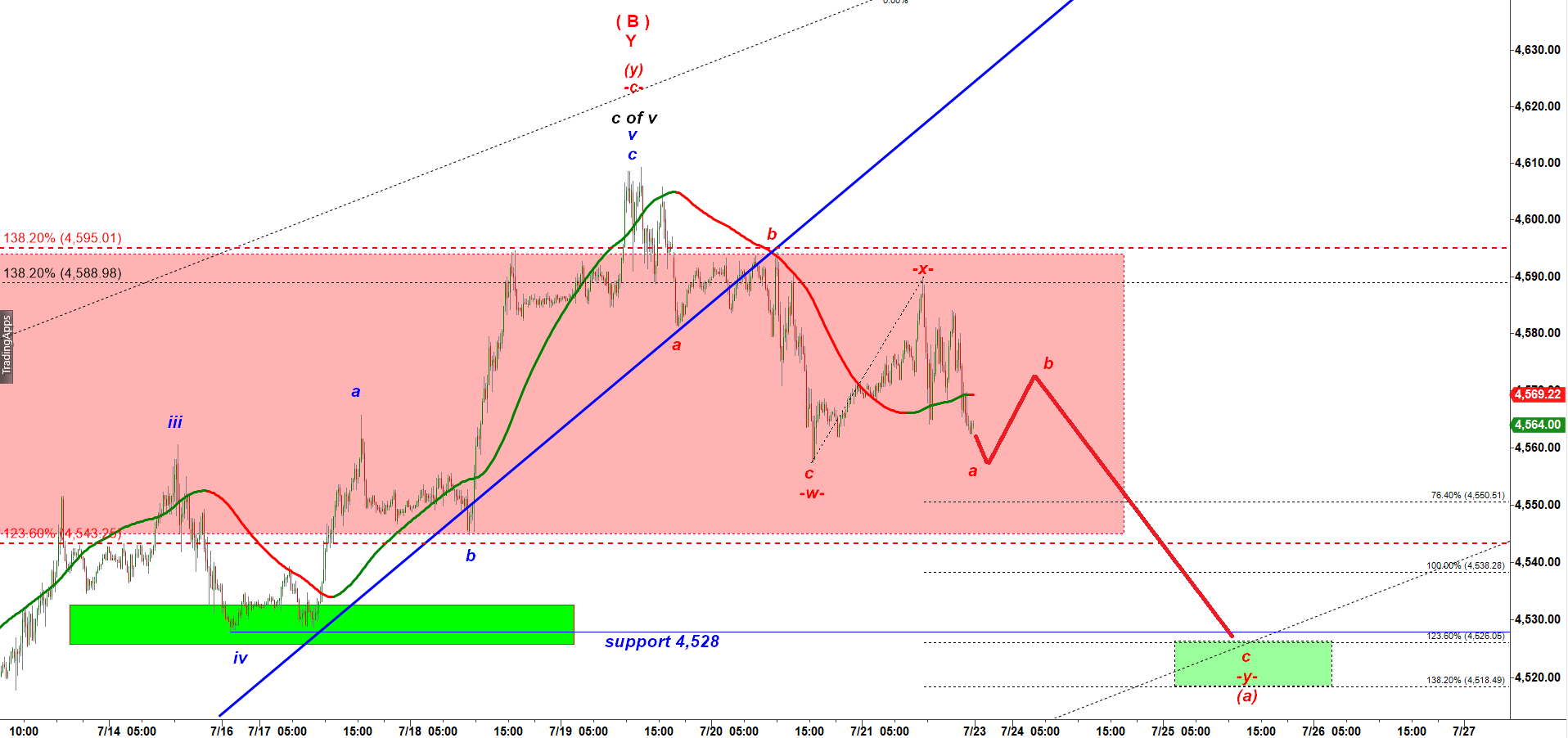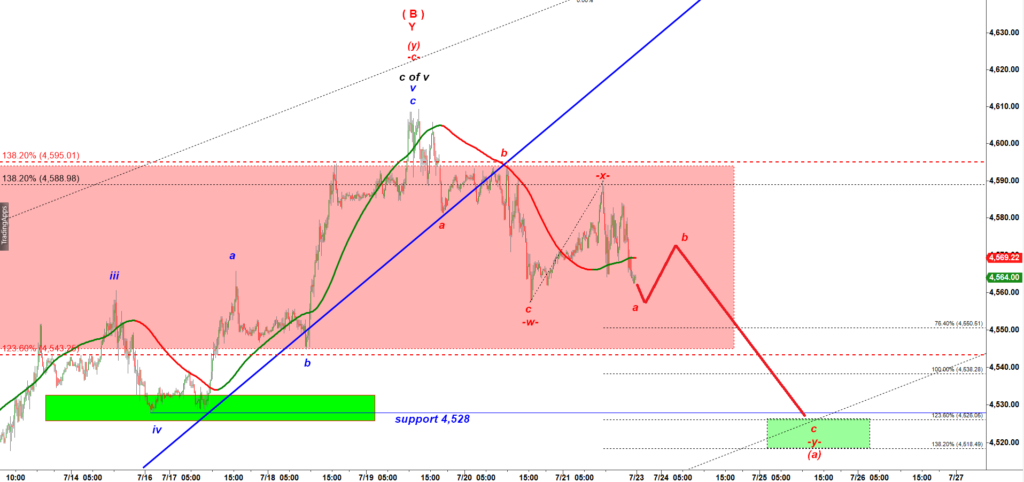 The very first micro support at 4,528 is still 40 points lower.
Ideal scenario would be to get another move down violating that micro support at 4528 followed by a corrective pullback.
ES-mini Daily support for Sunday – Monday is 4,557. Break under that level would set the bearish tone for start of the new week on Monday.
I should note that ss long as bulls hold ES over 4557 I can envision a slightly more complicated path down to 4,528:
The Potential Micro Path (ii):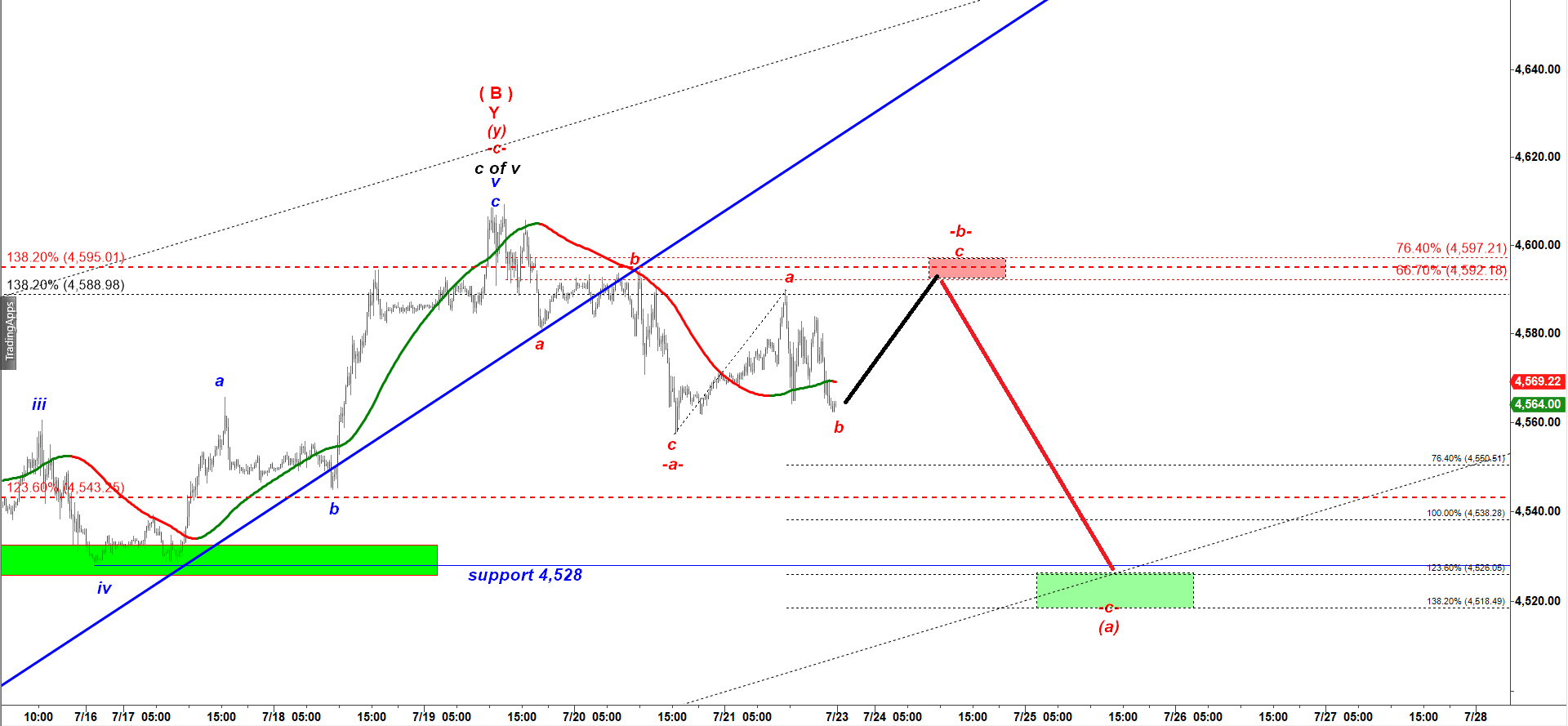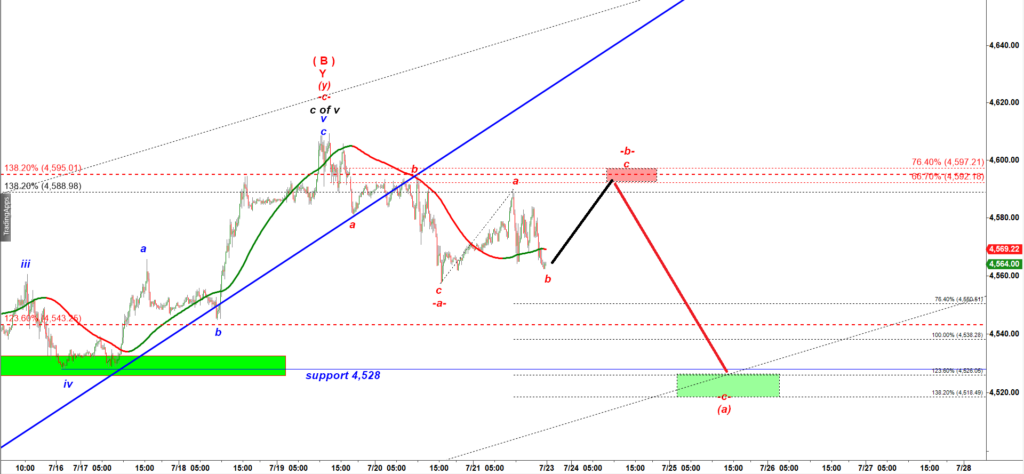 Under the micro path (ii) shown above bulls can attempt pushing up again but will most likely fail at the Red Traget box. Such a move up would complete a corrective a-b-c up structure of the wave -b- up and would set the stage for a strong drop in a wave -c- down to 4,528 or lower.