$ES #ES-mii #trading setup #Elliott Wave #wyckoff #education
In the previous update I shared a bullish path to 4,440. Today ES-mini topped at 4,449.50.
For subscribers of my Premium Chat room I nailed the exact top and turn down: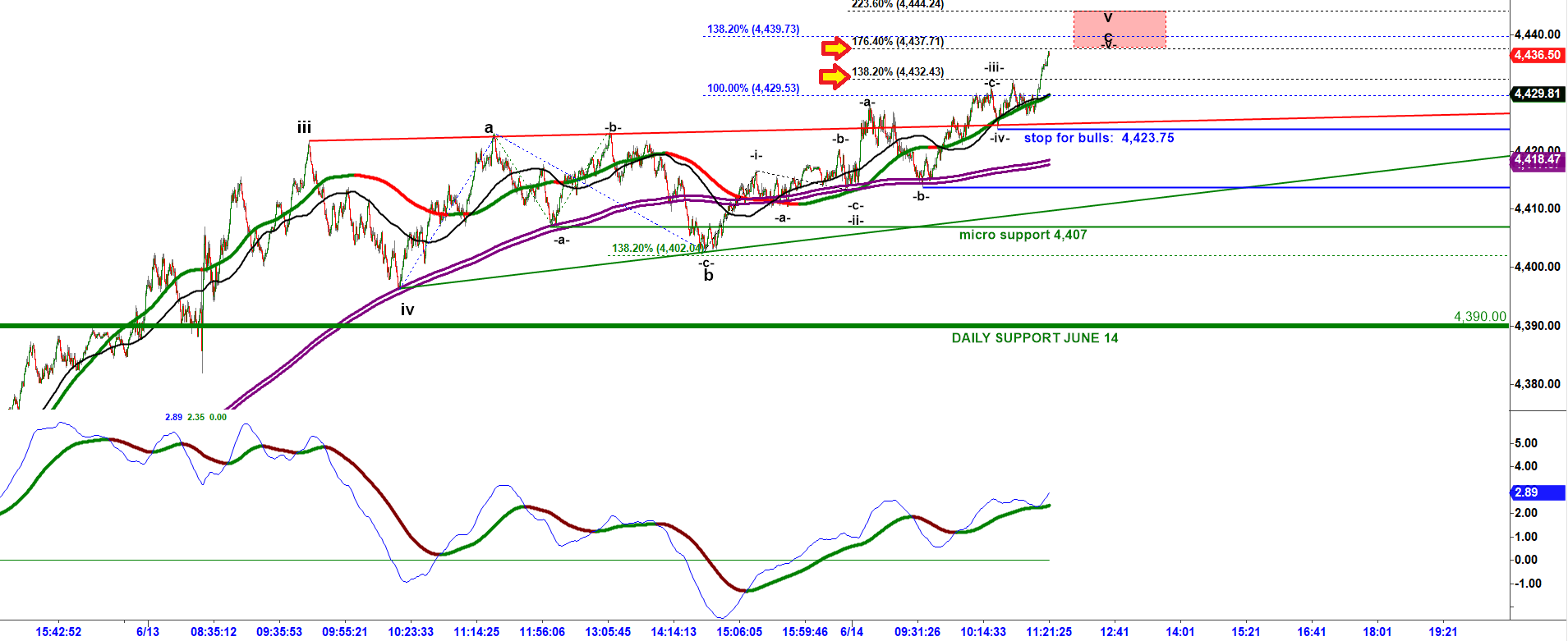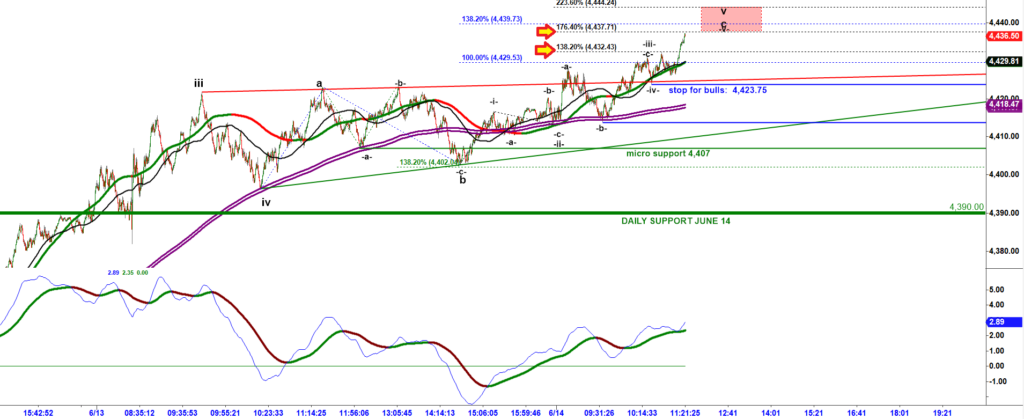 I shared an attractive short setup:
…"break under 4,423.75 would trigger a short "failed breakout" setup."
Moreover, I correctly predicted the low of the day in my evening update posted on Tuesday in my Premium chat room:
"4,389 should be a strong support, bulls will fight for that level. If they allow bears close ES under that level that would trigger a bearish 2-key reversal: a new higher high followed by an intraday reversal and close under two previous daily closes".
ES-mini bottomed at 4,383.50 today.
At 2-10 PM EST, right after FOMC announcement, I noted: …"price can easily come back up to 4,420sh to re-test the red trend line".
And then price rallied from 4,390 to 4,429 in a matter of minutes.
That describes what we are doing in my chat room. It's a great environment for day traders. But if you are a swing trader you want to now whether we can consider ES-mini having topped.
I really like the Wyckoff Distribution pattern. Because it is perfectly aligned with the Harmonic Elliott wave theory. Moreover, Wyckoff Distribution pattern is just a detailed path for a classic well known Head and Shoulders reversal pattern.
Thanks to that pattern I was able to correctly predict the morning rally, a bearish reversal, the afternoon drop and then a strong corrective bounce around 3 PM EST.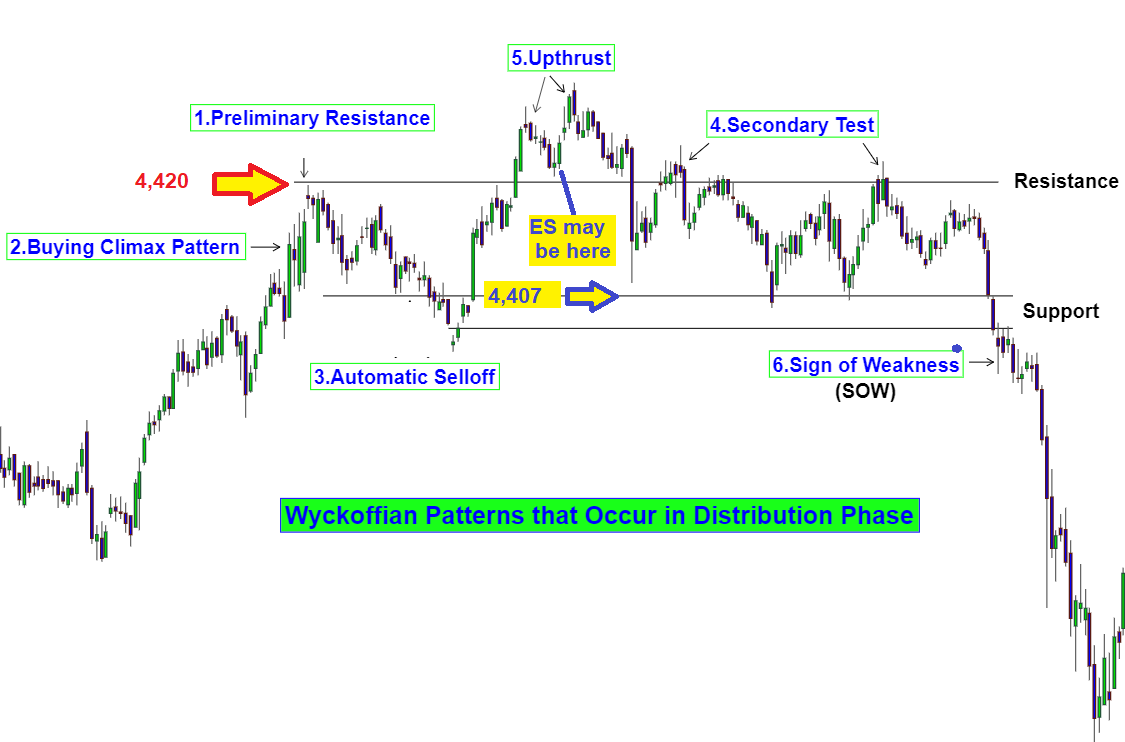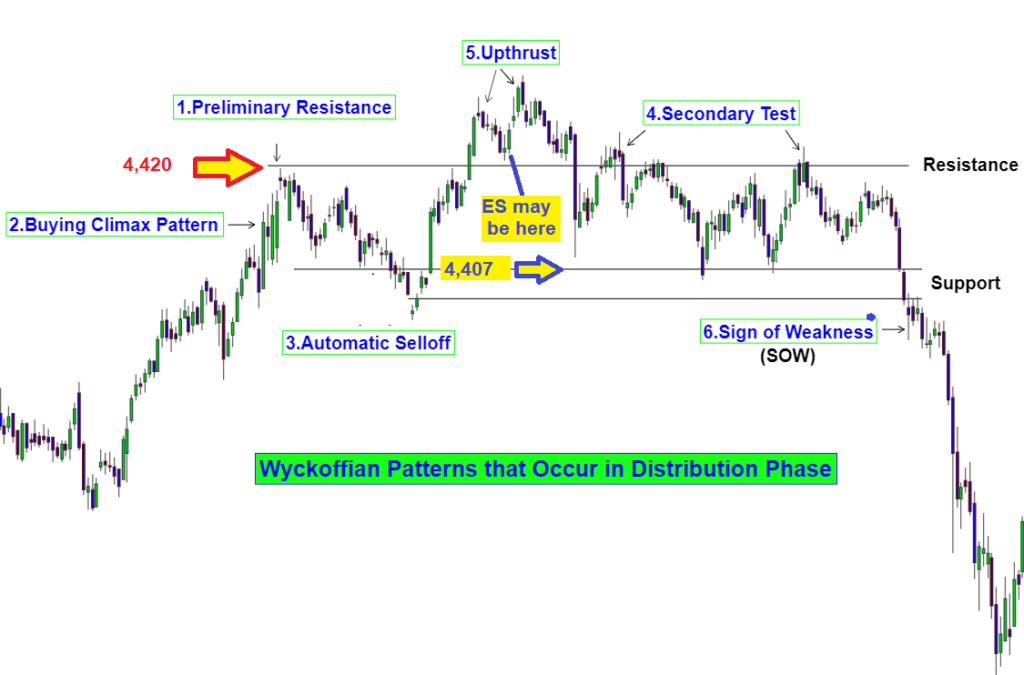 The pattern argued for an upcoming bearish reversal and drop under the high made by the Left Shoulder (4,420). So ES-mini dropped under 4,420.
At 2-01 PM EST price dropped and I updated that model aligned with the current location of ES-mini.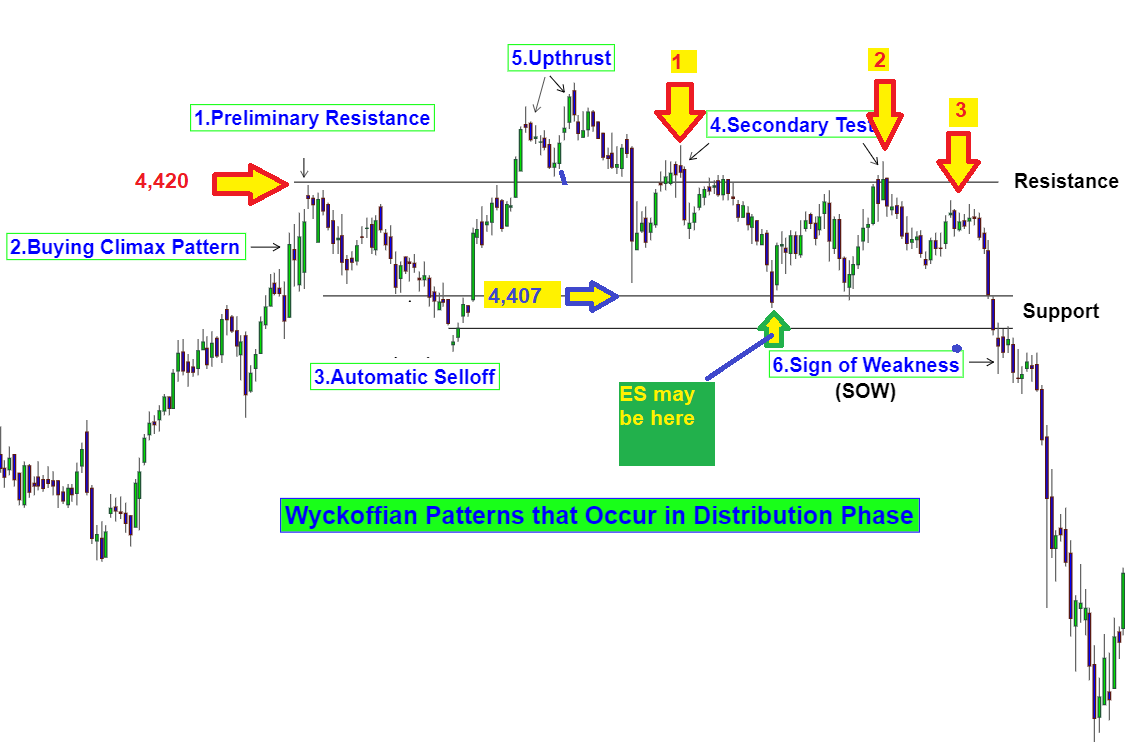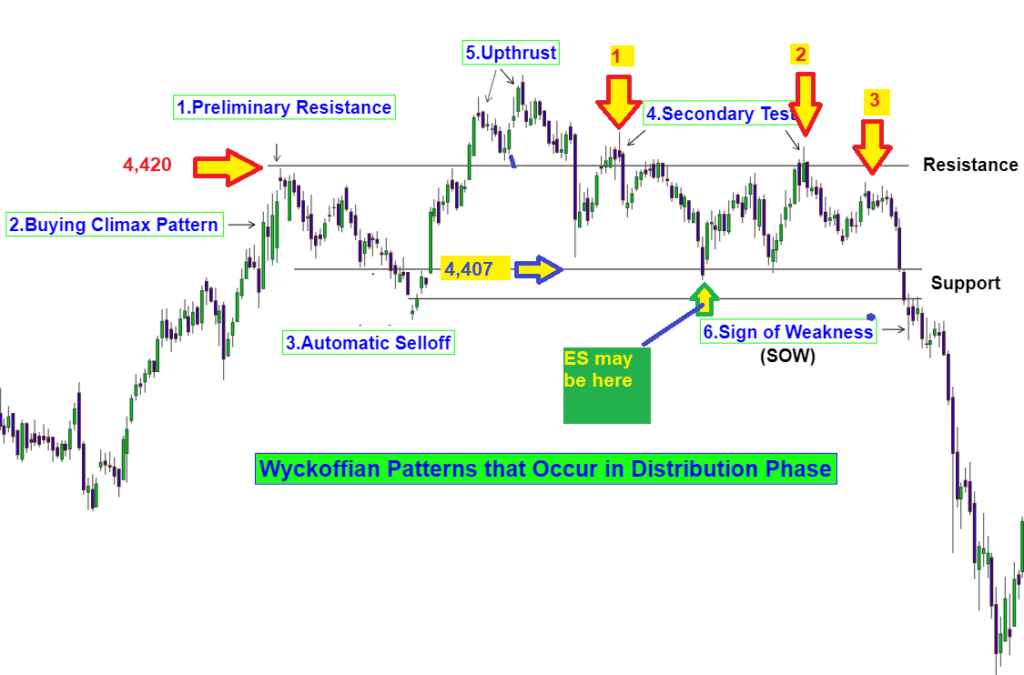 This is where I would place ES-mini here if we use that pattern as our map: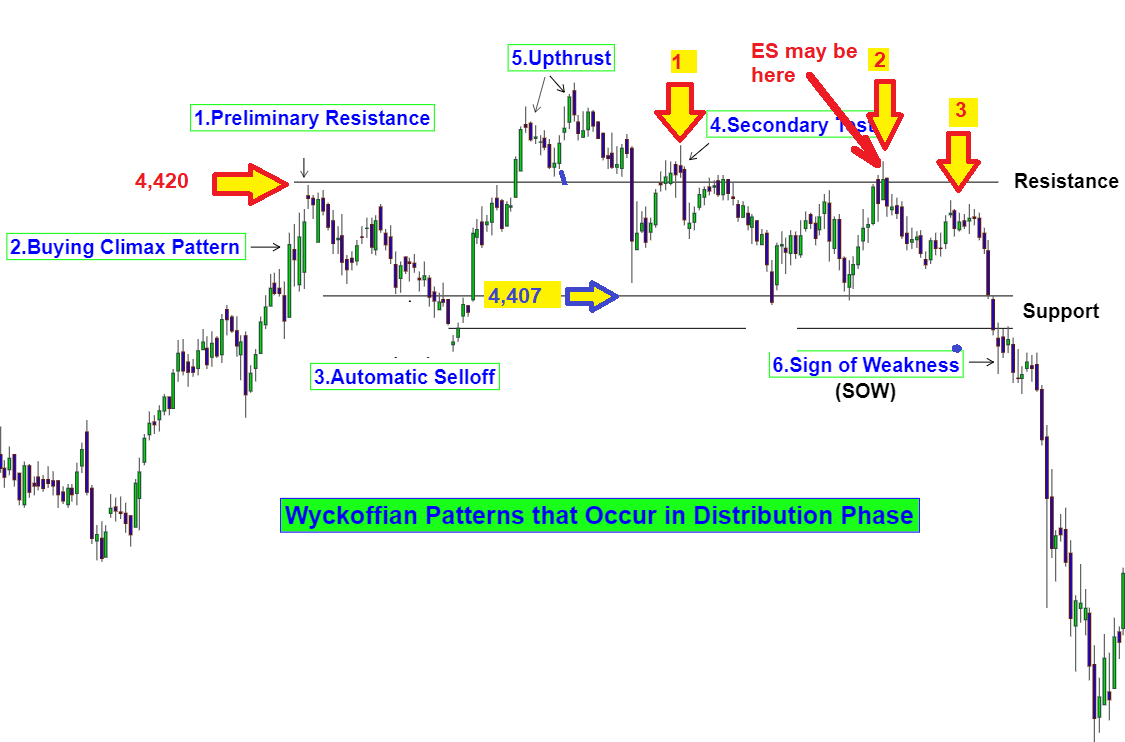 Remember the main rule of a professional short seller:
"acceleration down starts from the third consecutive lower high".
The Daily Support for ES-mini for overnight and tomorrow is 4,423. This pattern will keep working as out map as long as it holds under 4,423. Please email me if you need more explanation regarding that pattern and the way you can use it in trading.
Please note that 4,389 remains the key support for tomorrow. Bears failed to close a day under support 4,389 support today. But bears have one more day to trigger that bearish 2-close reversal o a daily timeframe. However, do not forget that we are in quad witching OPEX week. And normally we do not get breakouts or breakdown during the last two trading days of an OPEX week.
This is how the bearish scenario looks like: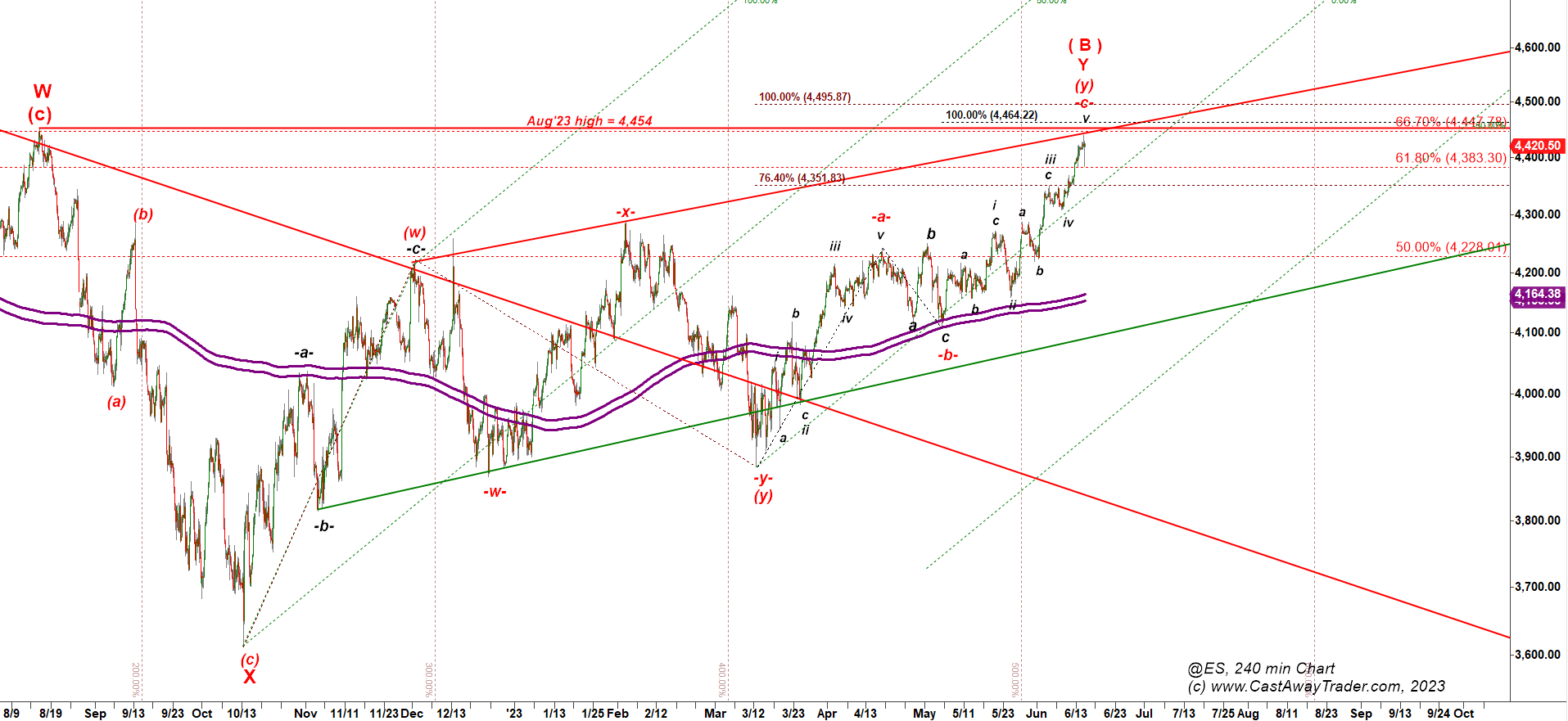 ES-mini approached a very important resistance, a 66.7% retracement of the decline off the Jan'22 top = 4,447.25.
In addition, 4,454 is the previous high made in Aug'22.
Moreover, ES has hit the red trend line that connects two previous highs made in Dec'22 and early Jan'23.
But until bears manage to break under the low made by the previous corrective pullback (4,306) we will not be able to confirm that it has topped.
If bulls manage to break over 4,447, a 66.7% retracement I would have to drop my primary bearish macro scenario that considered that rally as a corrective bounce off the low made in Oct'22. I have to share with you that very different alternative bullish scenario: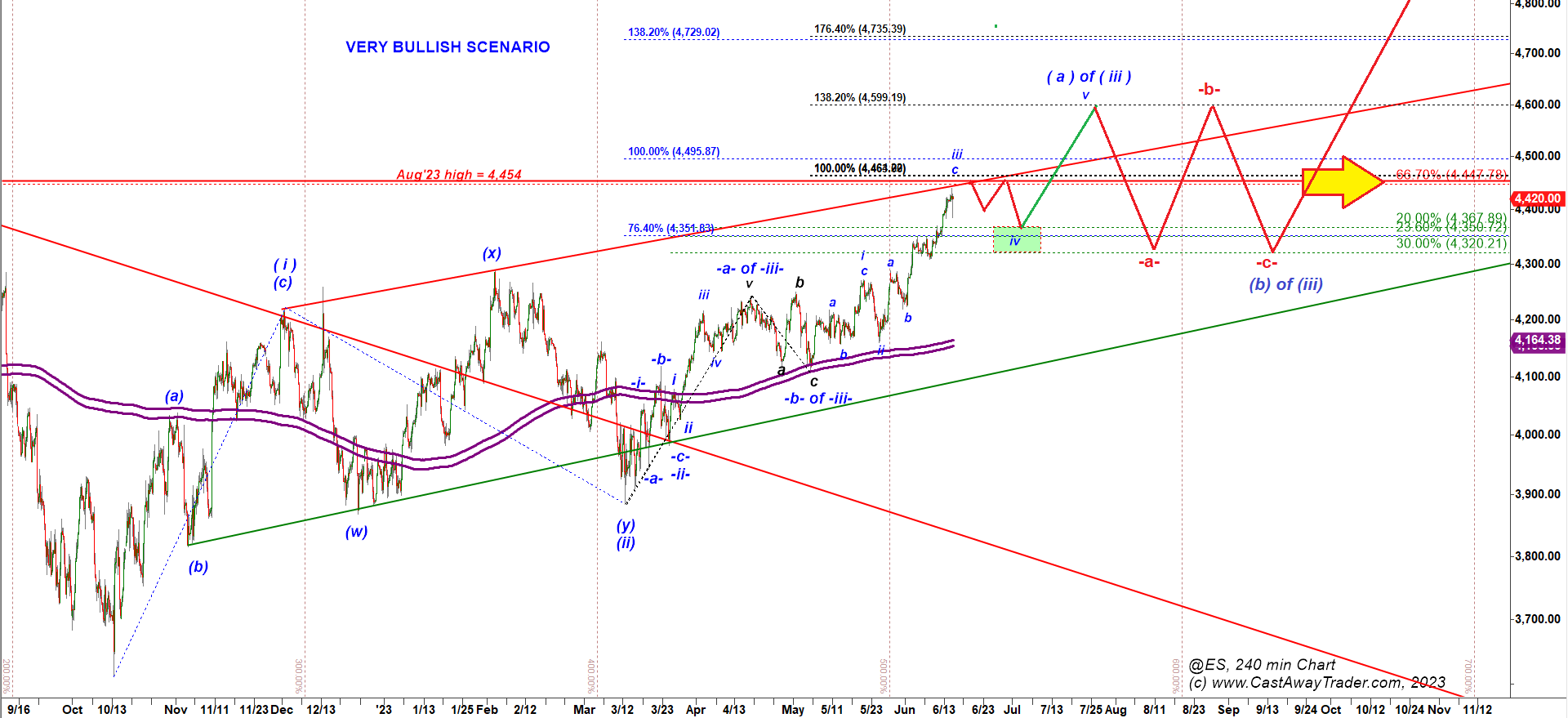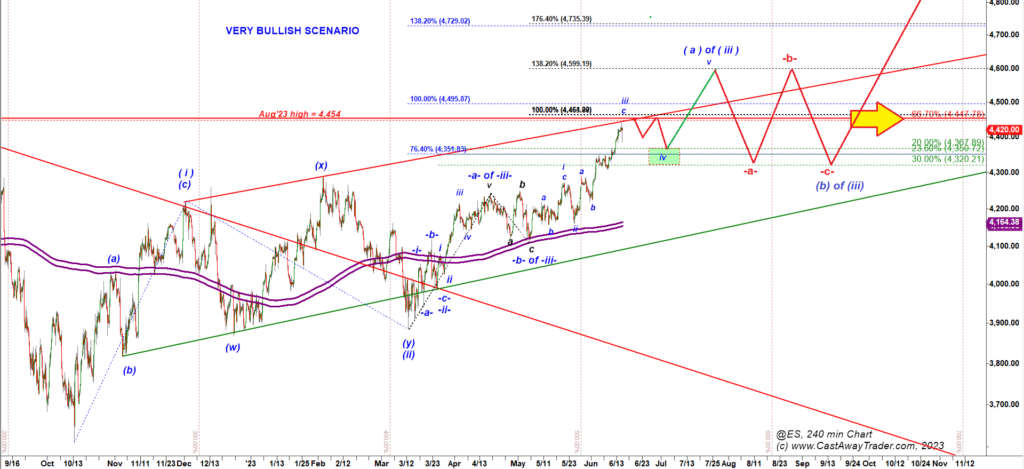 That scenario assumes that ES-mini made a lasting bottom of a corrective pullback in Oct'2022.
Even under that very bullish scenario we can get a pullback off 4,440-4,450 sh but in that case we would get a flat shallow pullback, a consolidation right under the meaningful resistance. That would be just a minor wave iv down to be followed by yet another rally.
If we do not get a strong rejection off 4,440 level like we did in Aug 2022 but rather some "gathering pattern" at the top in a range 4,440 – 4,320, that would be a strong argument in favor of that very bullish scenario. Under that scenario, that consolidation in a wave iv down would be followed by another spiky move up to 4,600 in a micro wave v of (a) of (iii) up. Then we will spend the second part of July – the second part of August in a range market drawing a flat -a- down, -b- up, -c- down structure in between 4,600 and 4,300.