$ES #ES-mini #trading setup
In the previous update I noted:
"The majority of scenarios I watch argue that ES has hit a strong Supply zone and most likely we will get ES rejected at this zone. The bearish scenario 1 argues for a pullback down to 4,125."
This is how that scenario looks like:
As you can see, ES has a little bit more room left to drop to tag that Green Target box.
(2) Very Bullish scenario: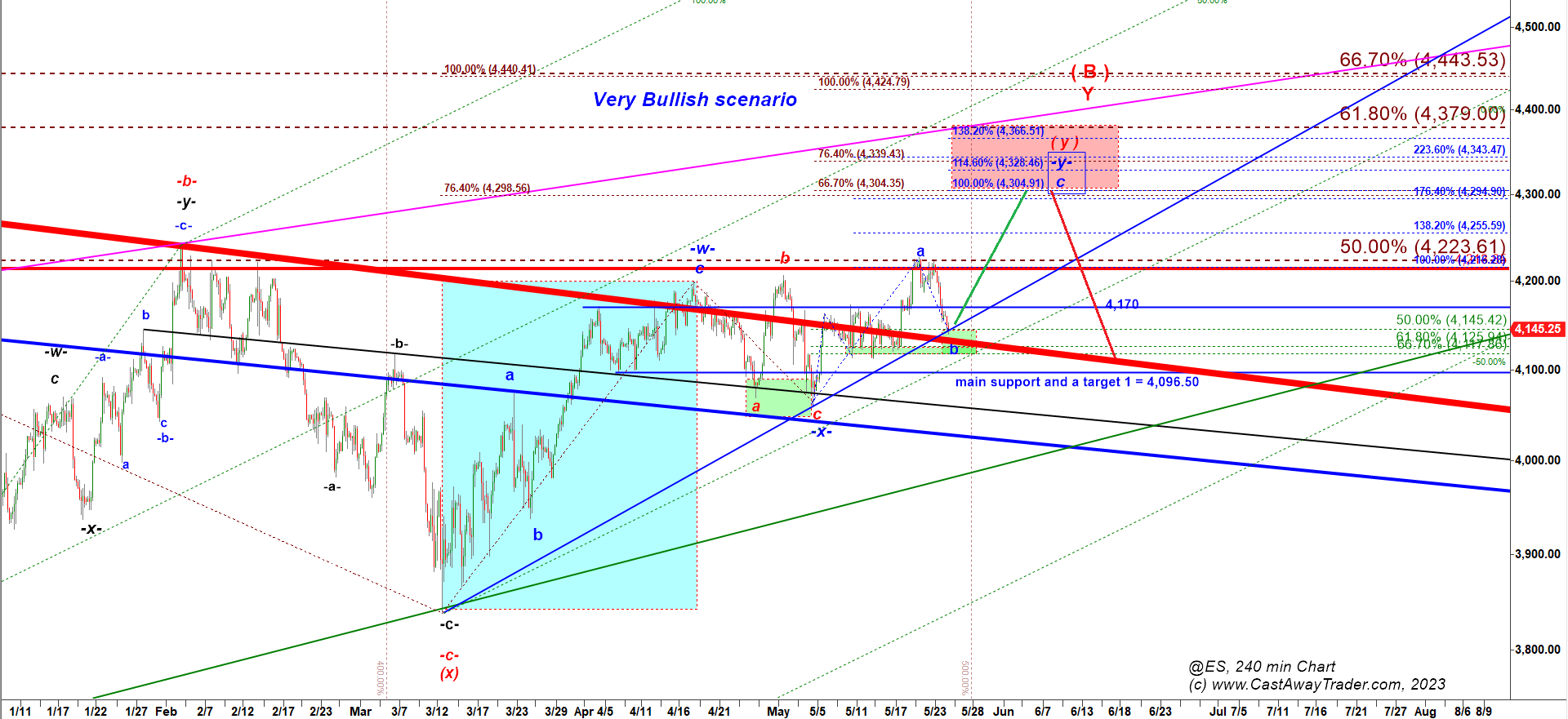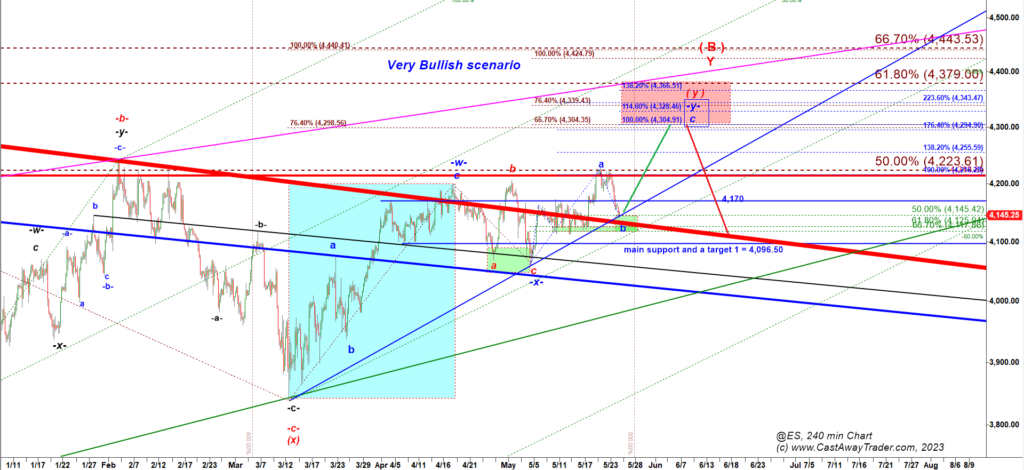 The Very Bullish scenario may get triggered if the clowns miraculously reach an agreement regarding the debt ceiling. As you can see, ES-mini has hit the Green Target box.
Let's zoom in: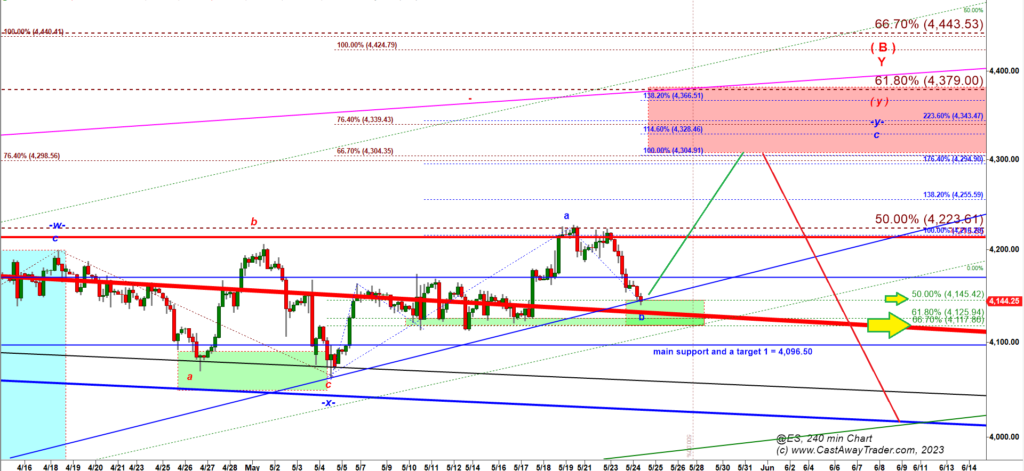 However, even under that scenario bears may push lower down to 4,126 (61.8% retracement) or deeper down to 4,118 (66.7% retracement).
A monthly pivot in ES-mini is located at 4,105. My TradingView indicator draws long term pivots on intraday charts.
Please note, a break under 4,118 would bury that bullish scenario 2.
(3) Max Pain, Bearish Expanding Triangle scenario: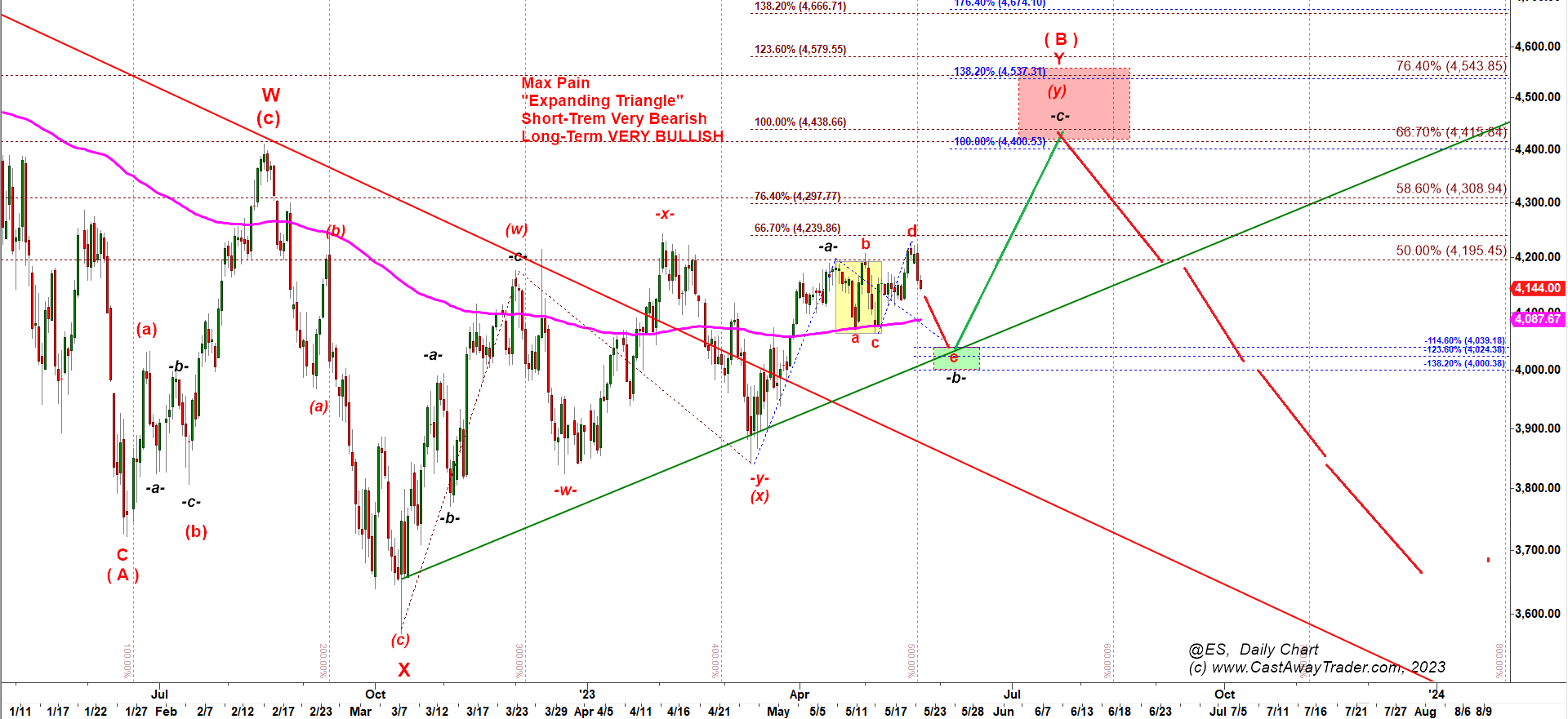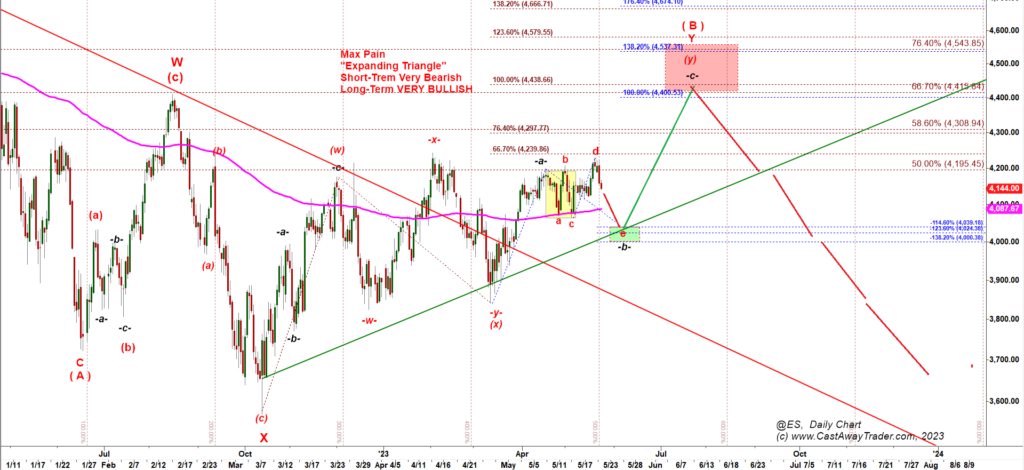 Under the Expanding Triangle scenario bears can kick this can another 100 pts lower to test the Yearly-Resistance-Turned support at 4,035. That drop would complete the final subwave e down of a corrective consolidation structure shaped as the Expanding Triangle. A completed consolidation would be followed by a very strong rally to much higher highs.
BONUS: Let's look at the Month Opening Range: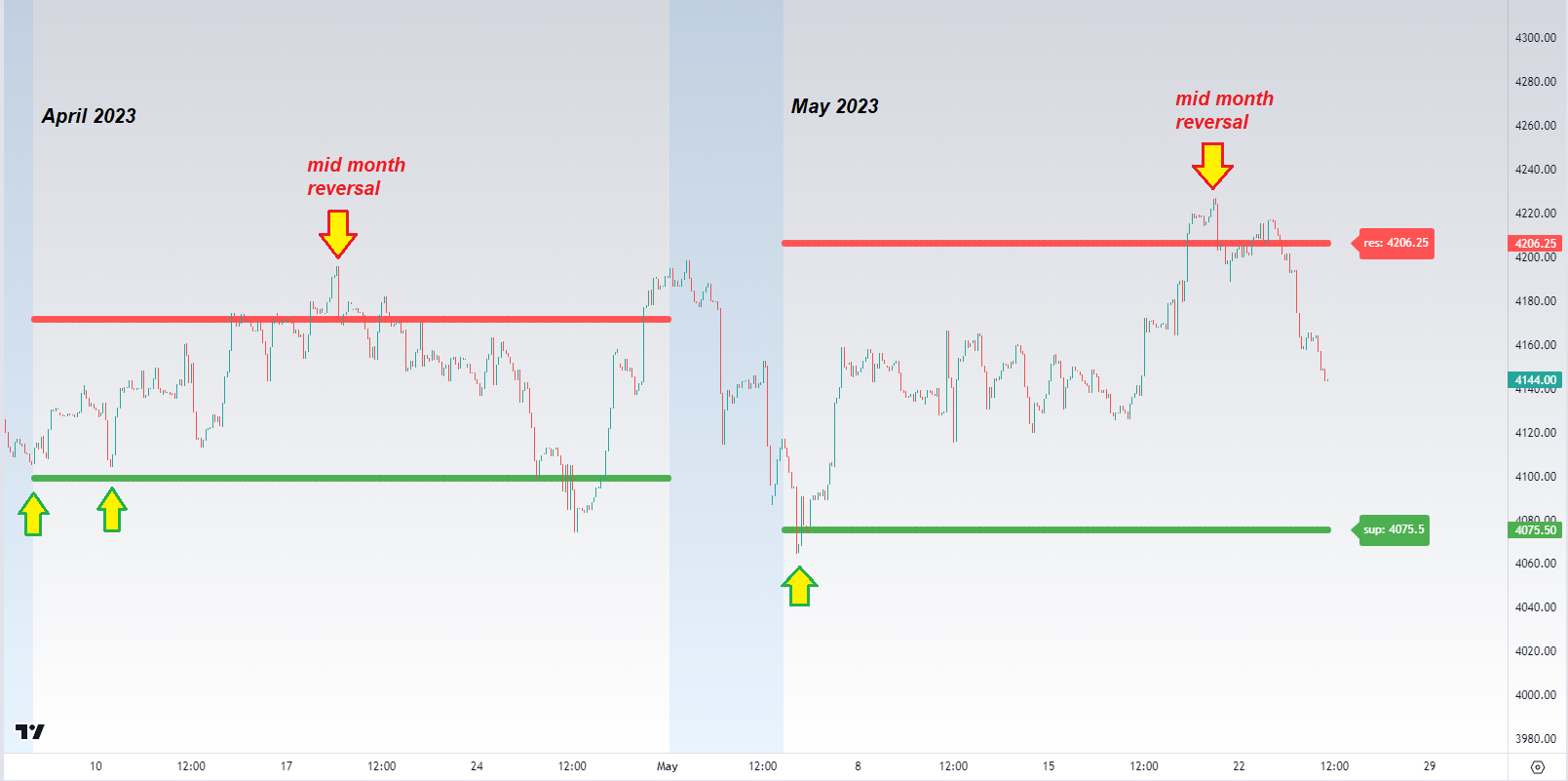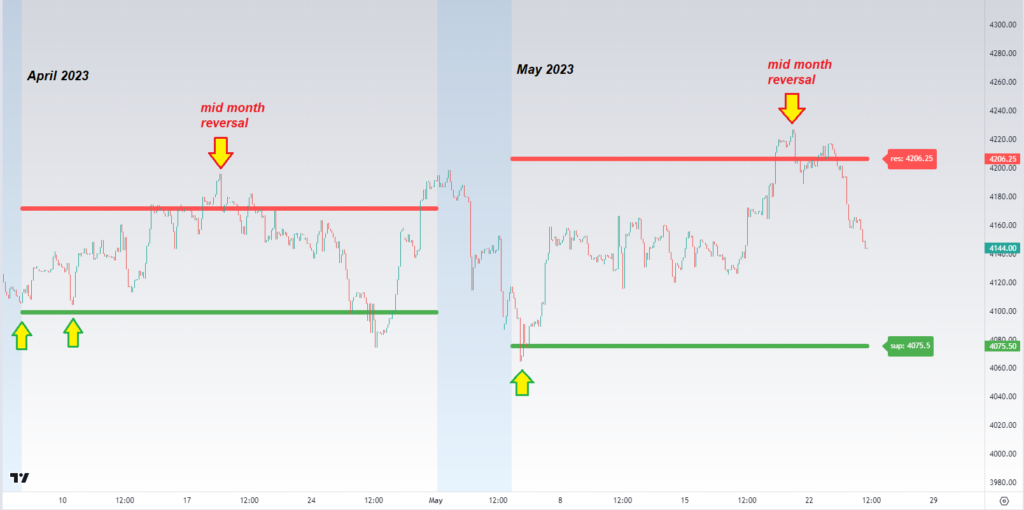 So far ES-mini plays by the script borrowed from April.
Episode 1: The countertrend during the first three trading days fail to break under the Monthly support. Bears' failure triggered a rally towards the monthly resistance.
Episode 2. Bulls try to break over the Monthly resistance but fail. Notably that failure happens during the ideal time window for a reversal, the middle of a month.
Episode 3. A failed breakout is followed by a strong decline towards the monthly support.
The monthly support for May is 4,075.
You can get that free TradingView indicator that draws Monthly Support and resistance here.
BONUS II. Long term pivots.
Long-term pivots work pretty well for the cash SPX index: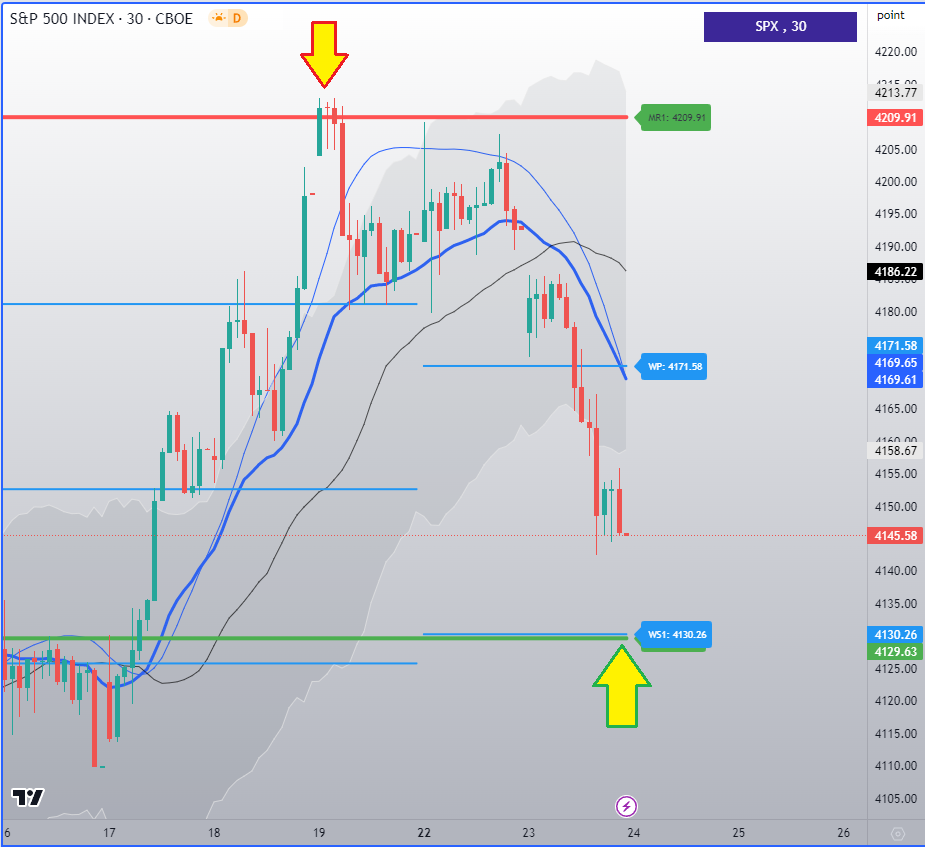 The next strong support in SPX is a monthly pivot 4,129.63.
I have a TradingView indicator that calculates and draws long-term pivots even on intraday charts.