$ES #ES-mini futures #trading setup
On Mar 13th I shared expectations for a strong short covering rally: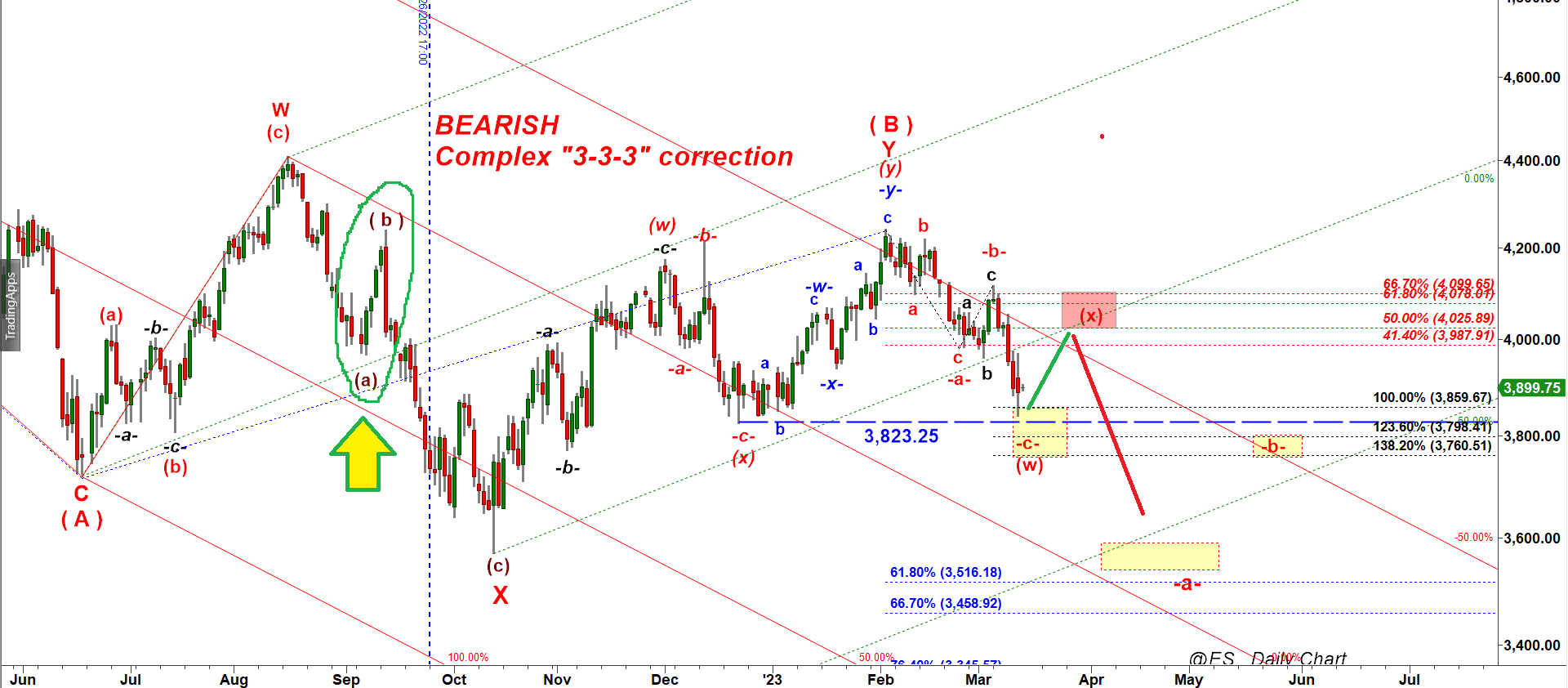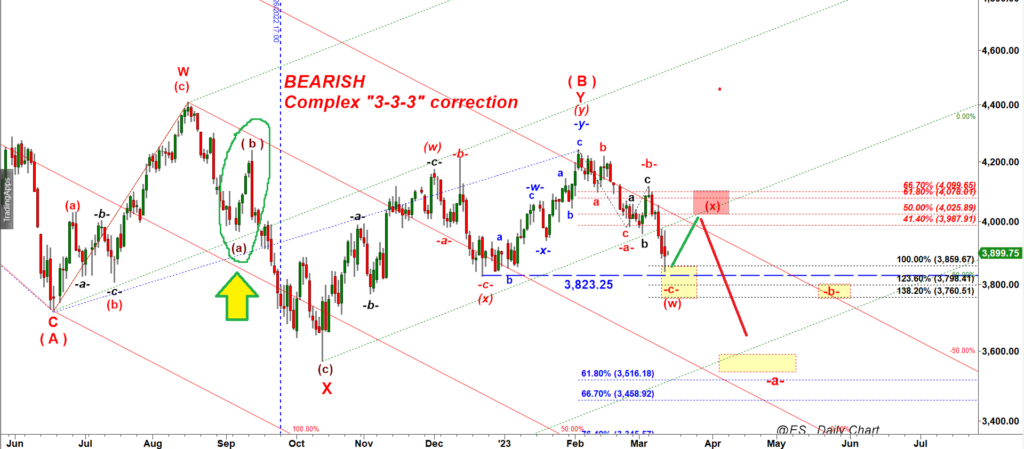 I pointed to similarity to a strong short covering rally we got in Sep'22. That rally is highlighted with the Green circle.
This is how that Daily chart looks like now: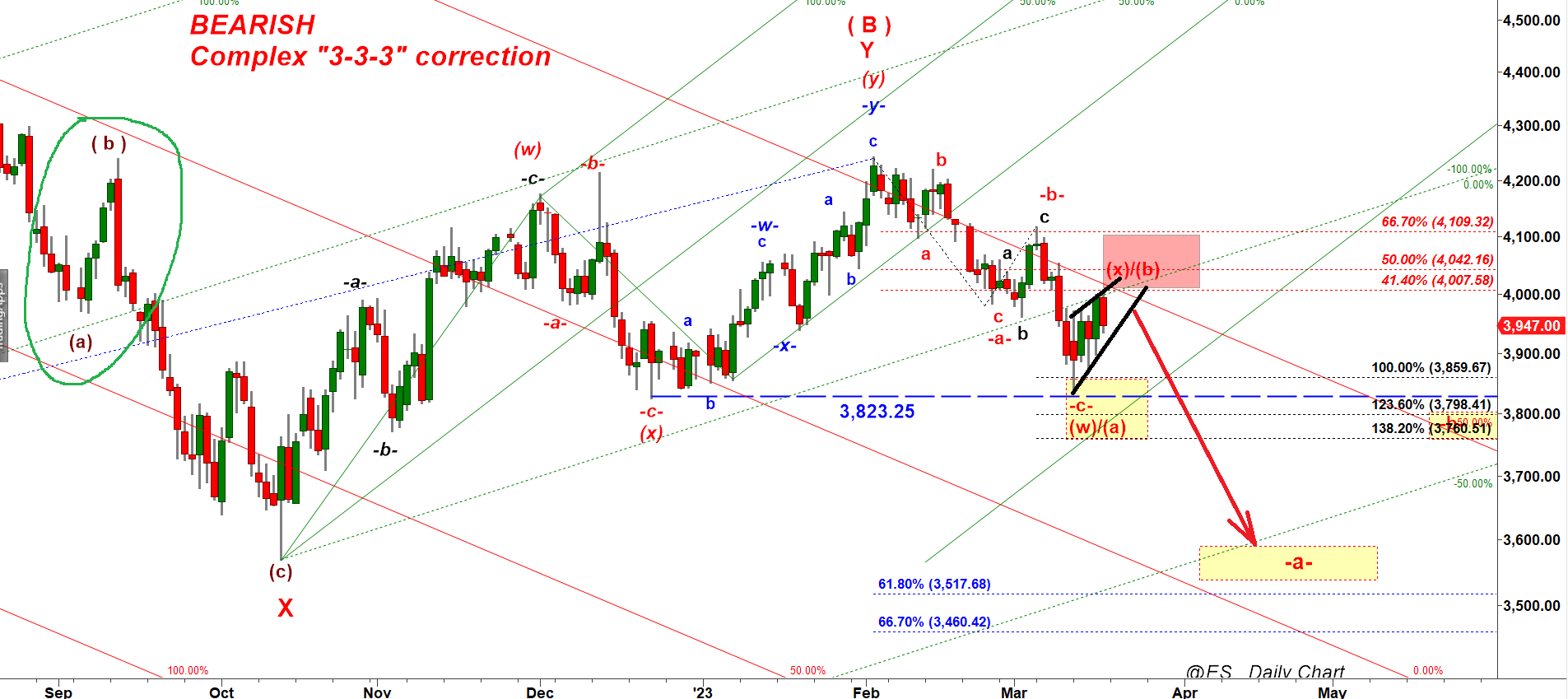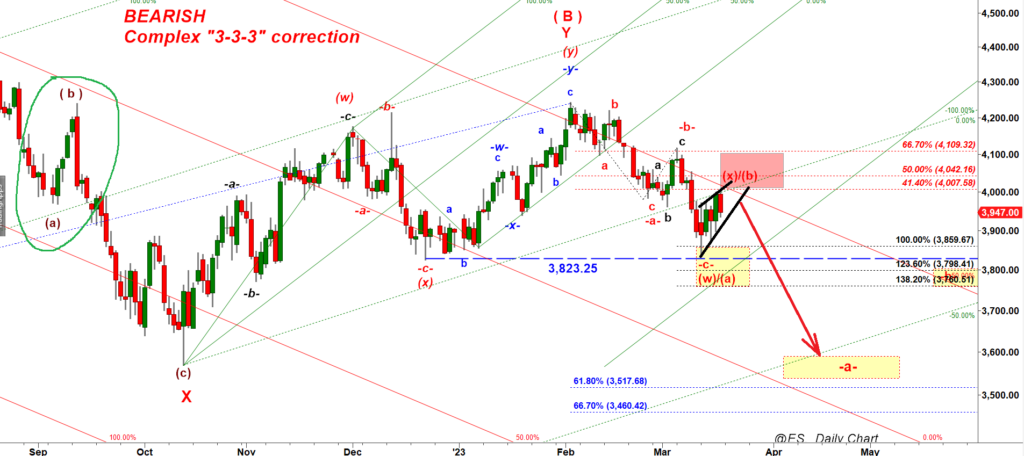 We have got a corrective bounce shaped as a bearish wedge. The Red Target box starts at 41.4% retracement = 4,007.50. Bulls tested the lower edge of the Red Target box. So I do not have doubts that we have been dealing with a corrective bounce.
Corrective nature of the move up can be easily confirmed by an overlapping structure of the move up: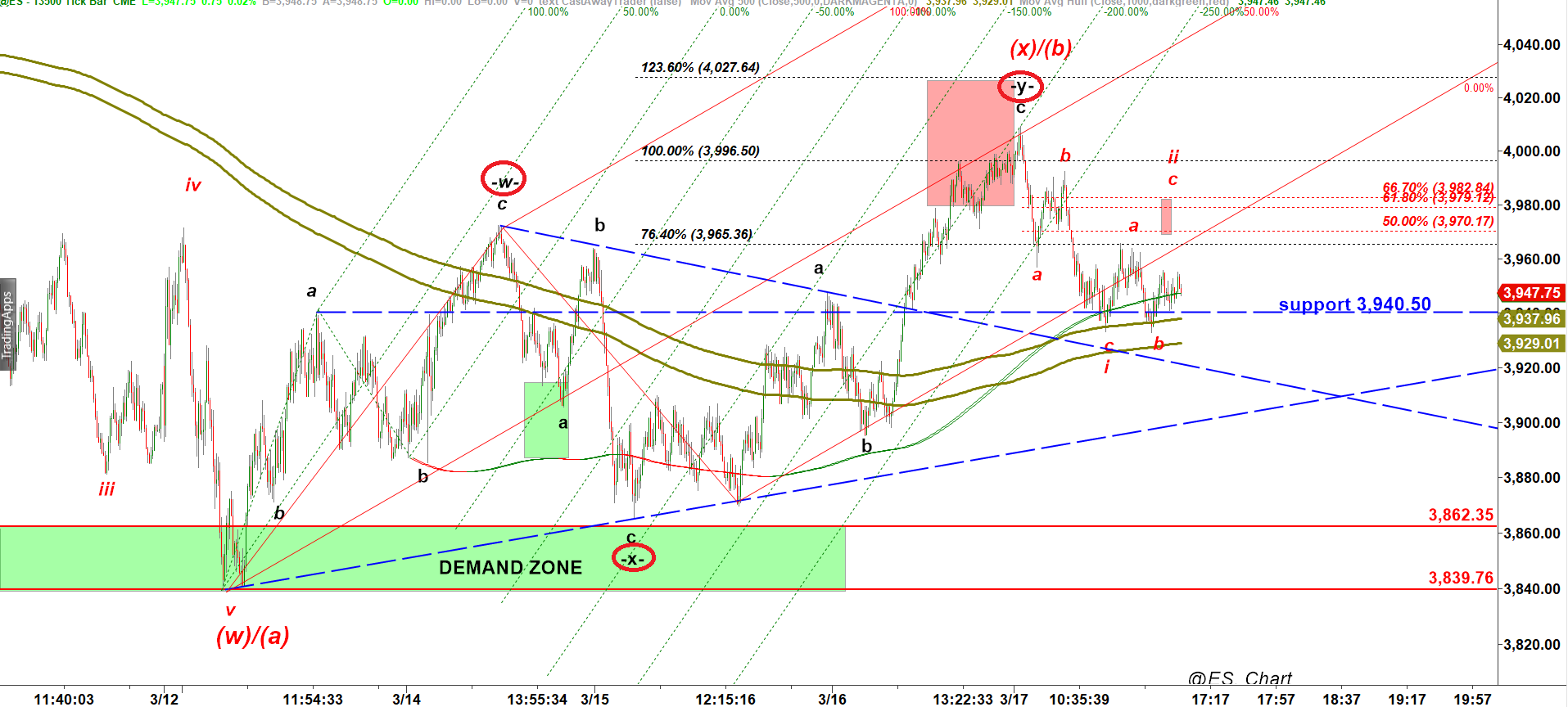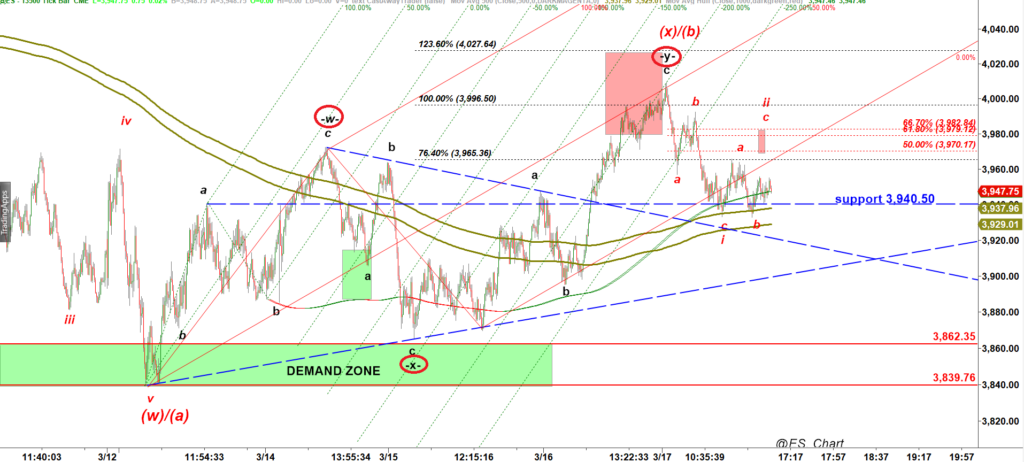 We got two a-b-c up moves that comprise a textbook corrective Double Three structure. Unfortunately the move own on Friday did not break any important support.
There is no certainty as to whether that bounce has already topped. On the daily chart above you can see that bulls could push ES-mini higher into the Red Target box without breaking out of the ascending bearish wedge.
If we look at the micro structure, bears face risk of this move down on Friday to be a failed pre-mature attempt to start a new leg down. In that case this a-b- micro move down on Friday would be counted as a wave -xx- down and will be followed by another a-b-c up structure that would be able to extend higher into the Red target box on the daily chart shown above. That is a case when a completed Double Three structure morphs into even more complex Triple Three structure.
To make that alternative bullish scenario much less probable bears have to push ES back under 3,940 support. To completely eliminate that scenario bears need to break under 3,895.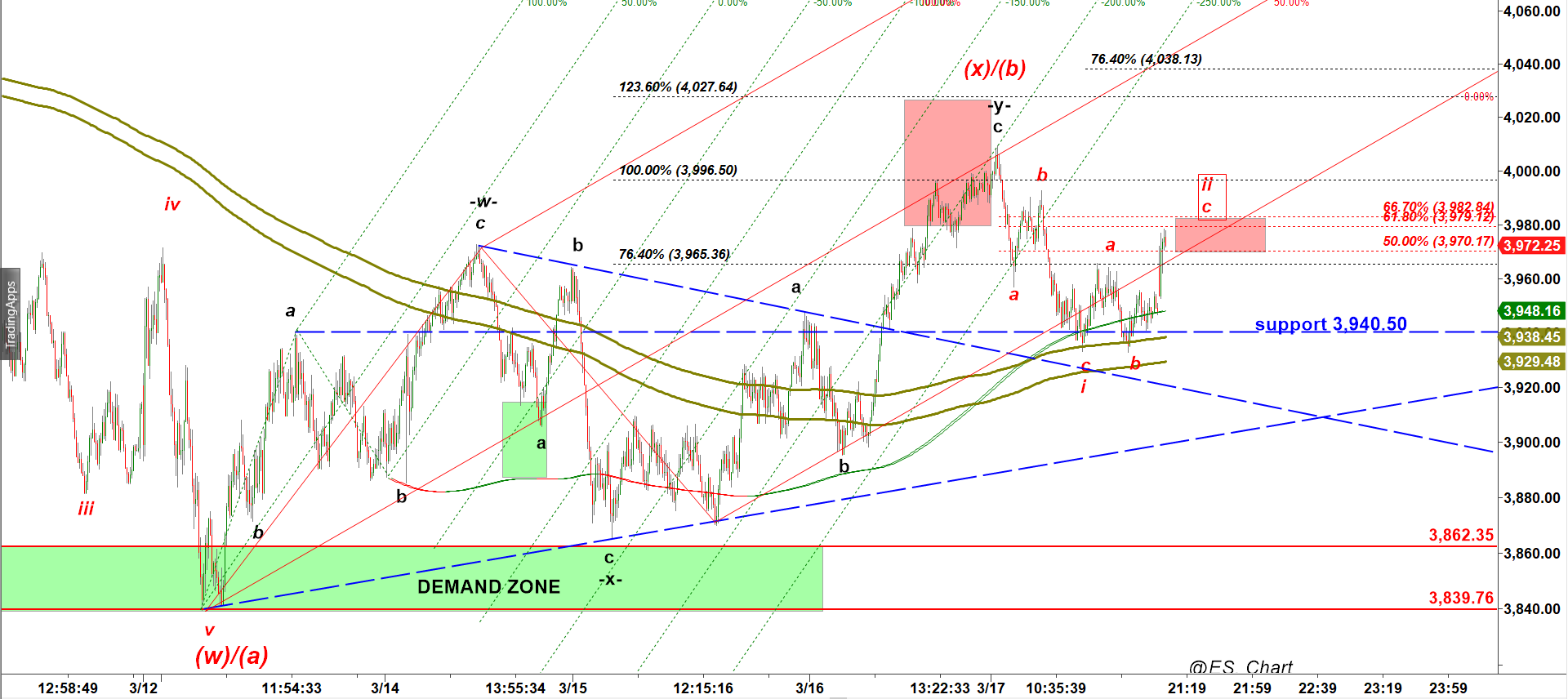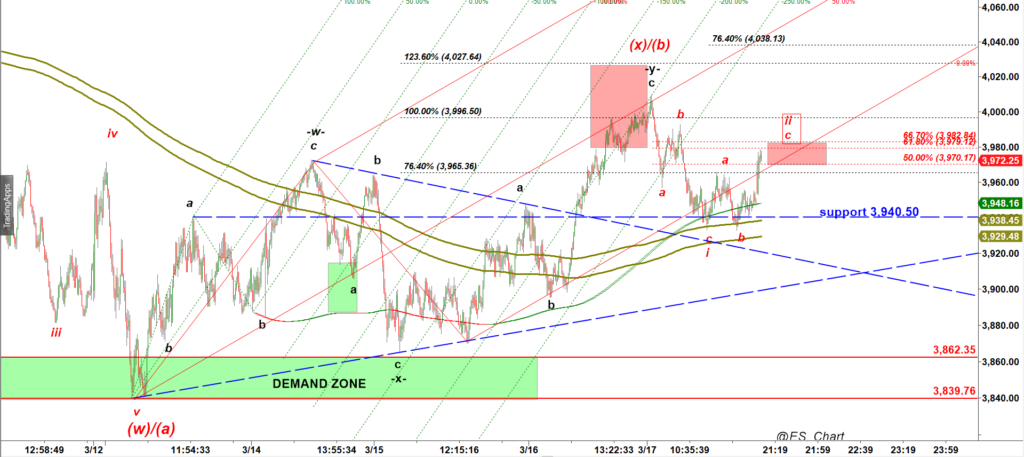 As long as bears hold ES under 3,982 resistance, the bearish setup will be alive. That setup allows bears to start a strong decline in a micro wave iii down targeting 3,840.
However, a move over 3,982 (66.7% retracement of the Friday decline) will confirm that the bullish alternative wave count is probably in play. The bullish alt is ES made a bottom of a wave -xx- down on Friday and starts another abc up structure to a higher high off the Friday low. The min target for teh third a-c up structure off the Friday low would be 4,065-4,070.