$ES #ES-mini futures #trading setup #Elliott Wave
In my previous update I shared a very bullish scenario that allowed bulls "That very bullish path allows bulls "to test 4,300 with very little pullbacks on the way."
ES-mini hit 4,300 level on Friday. Bulls hit the target quicker than I expected.
Let's start from two alternative macro scenarios:
(1) Very Bullish: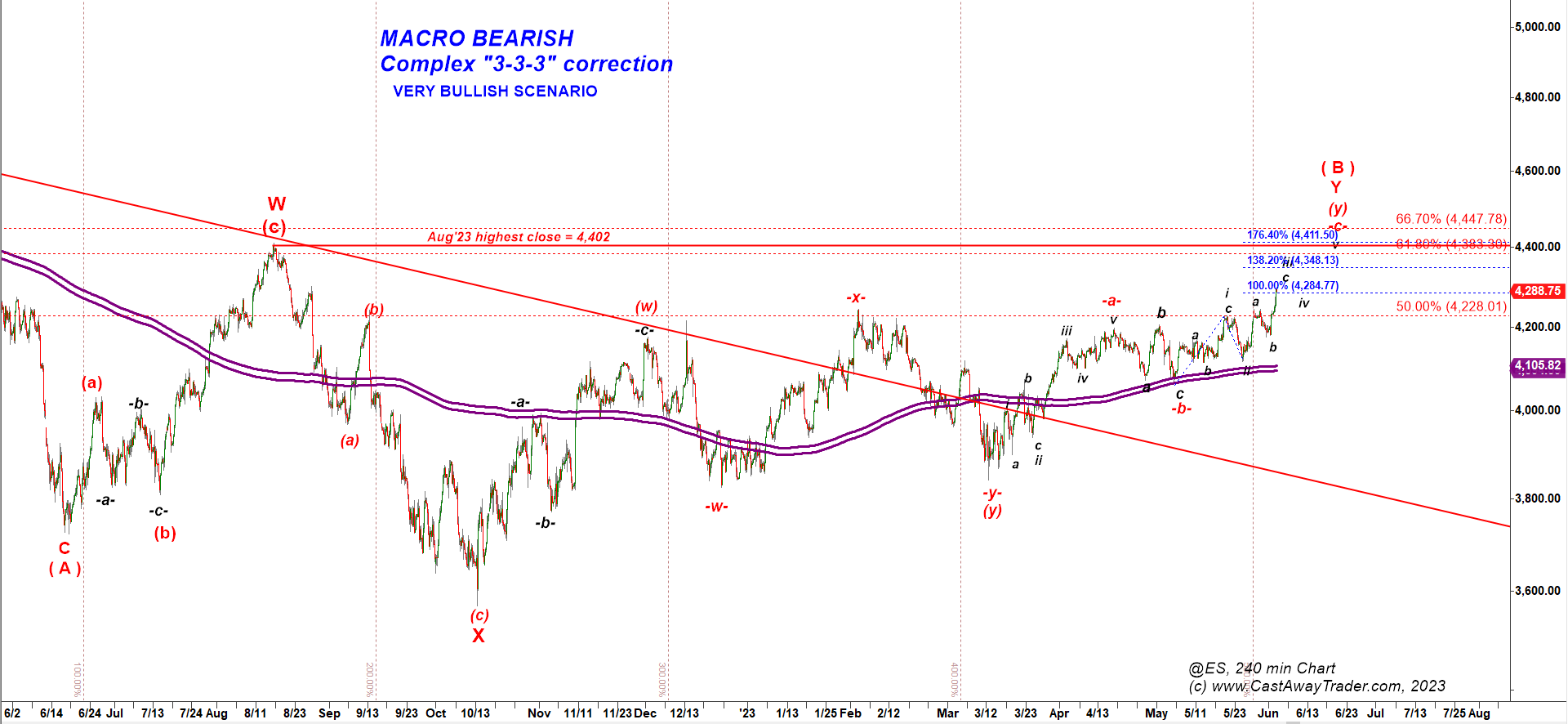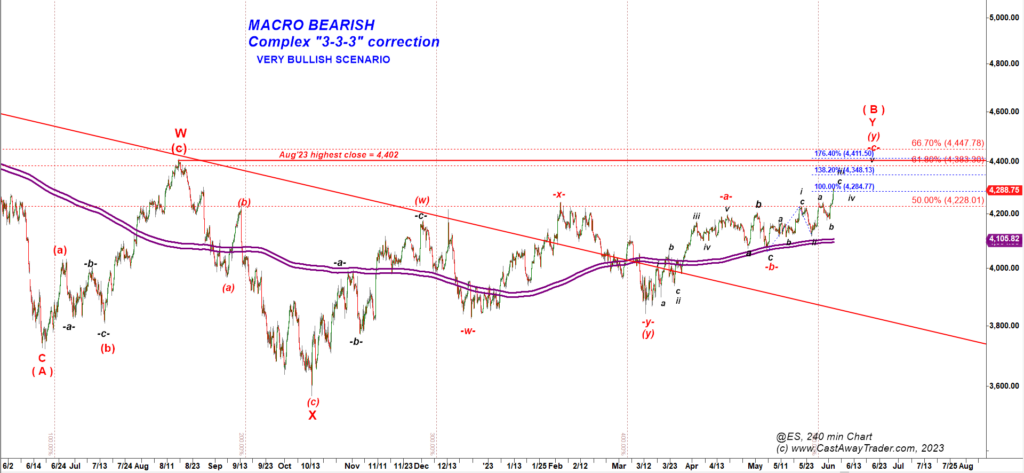 Under the Very Bullish scenario bulls can push ES up to 4,400. Let's zoom-in to see the micro five wave up structure of the rally that started in early May 2023: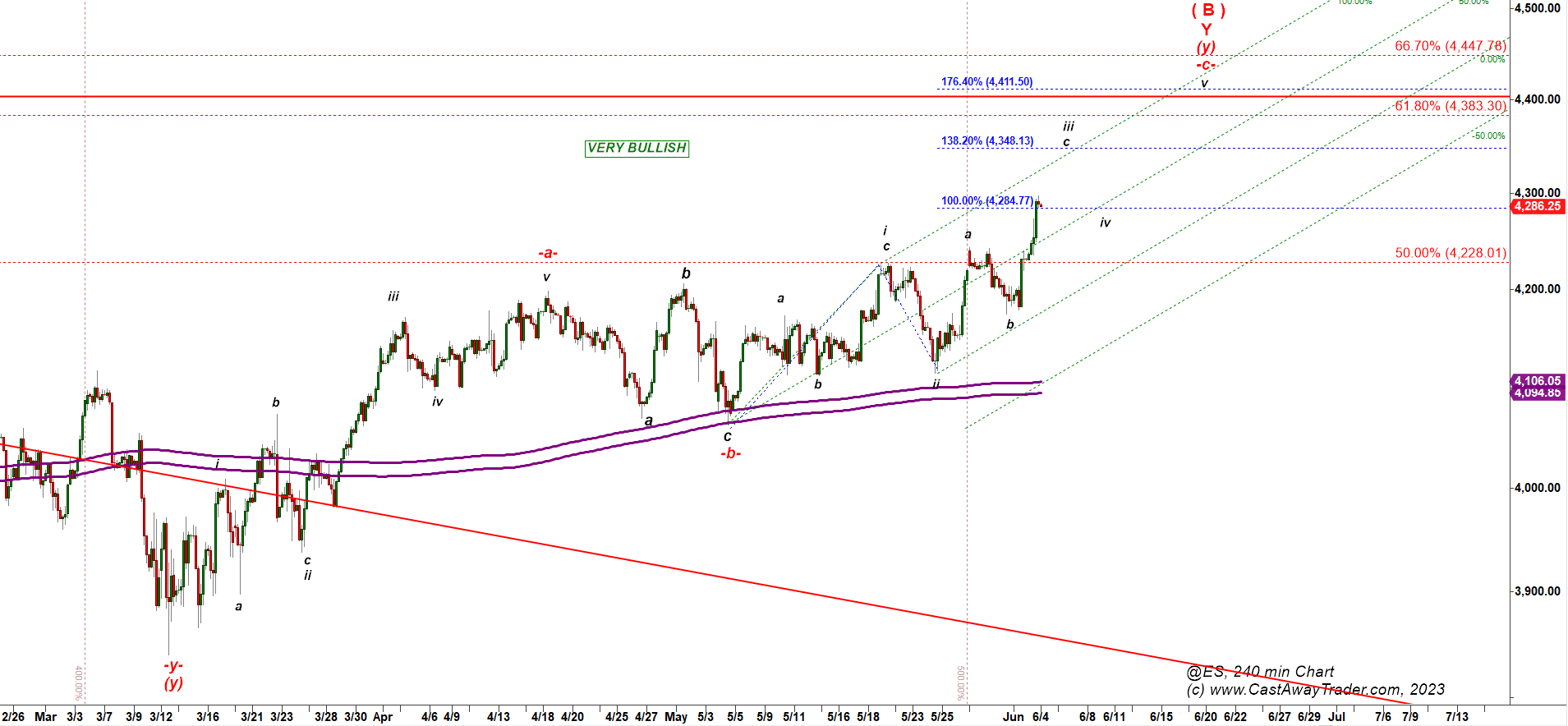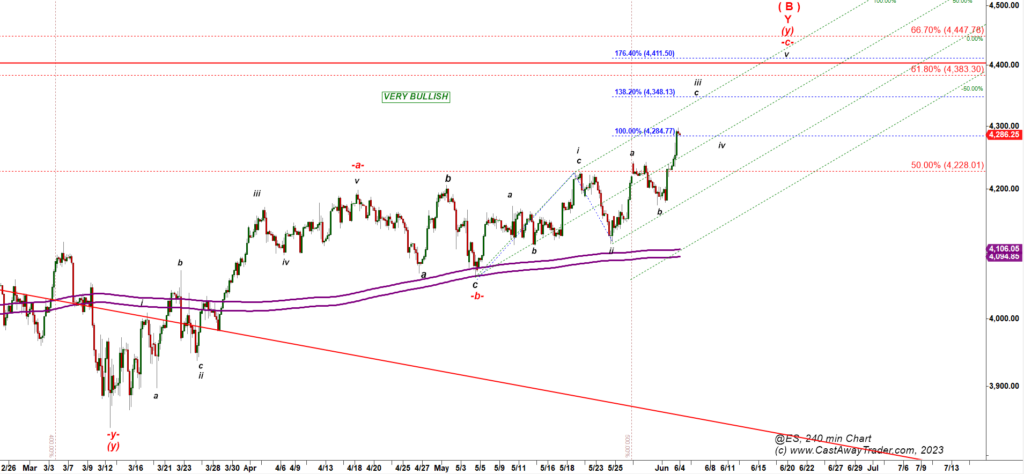 If we assume that we deal with an impulsive five wave up move up off the low made in early May (labelled with red -b- down symbol) we can expect bulls to test 4,350 before any pullback in a micro wave -iv down starts. That Very Bullish scenario allows bulls to test 4,400 in a micro wave -v- up.
(2) Less Bullish scenario.
The Less Bullish scenario considers the move up off the low made in early May 2023 as an a-b-c structure, not an impulsive five wave up structure: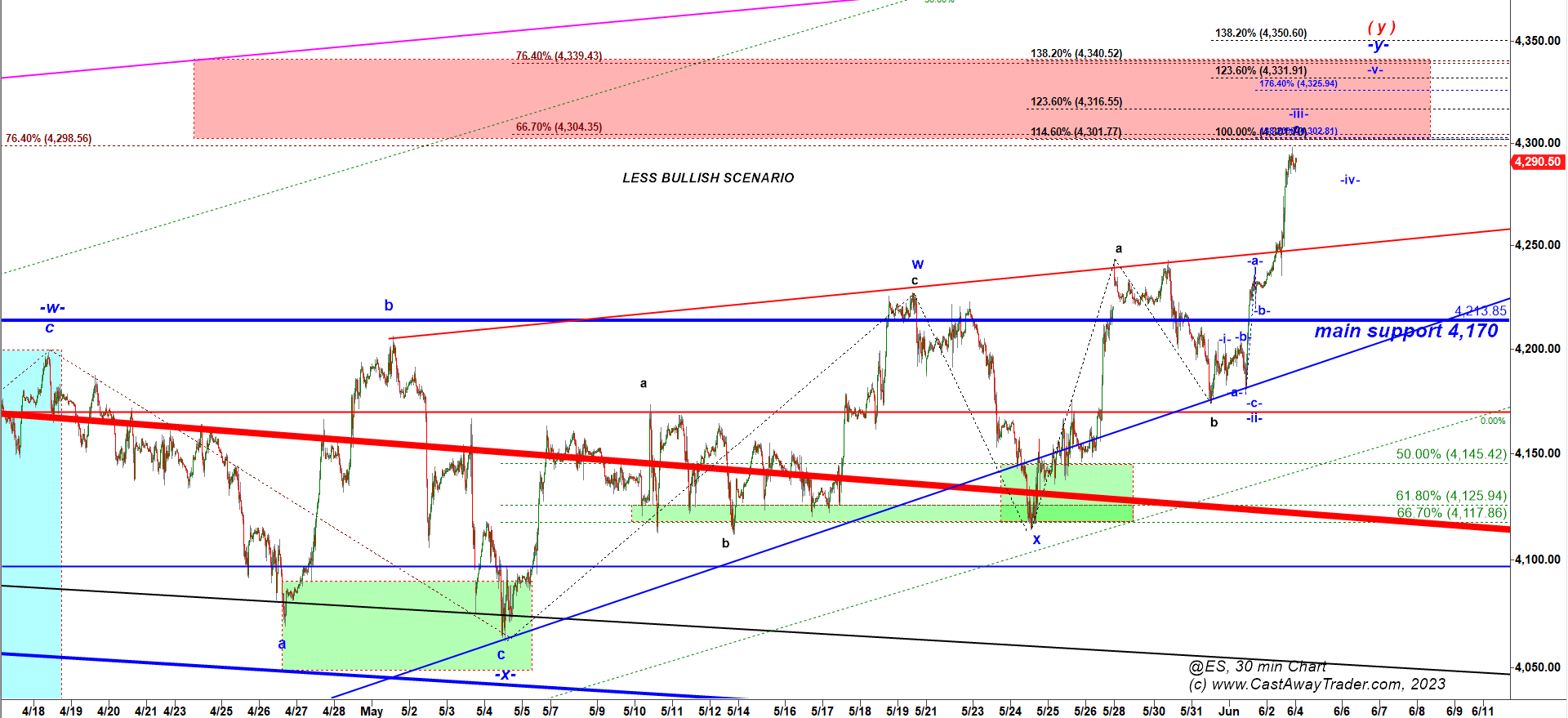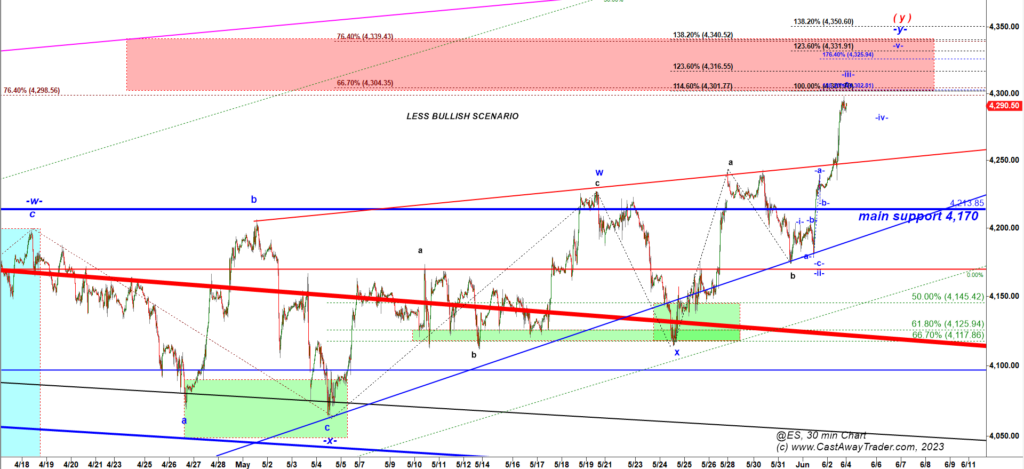 Let's zoom in to see details of the May rally: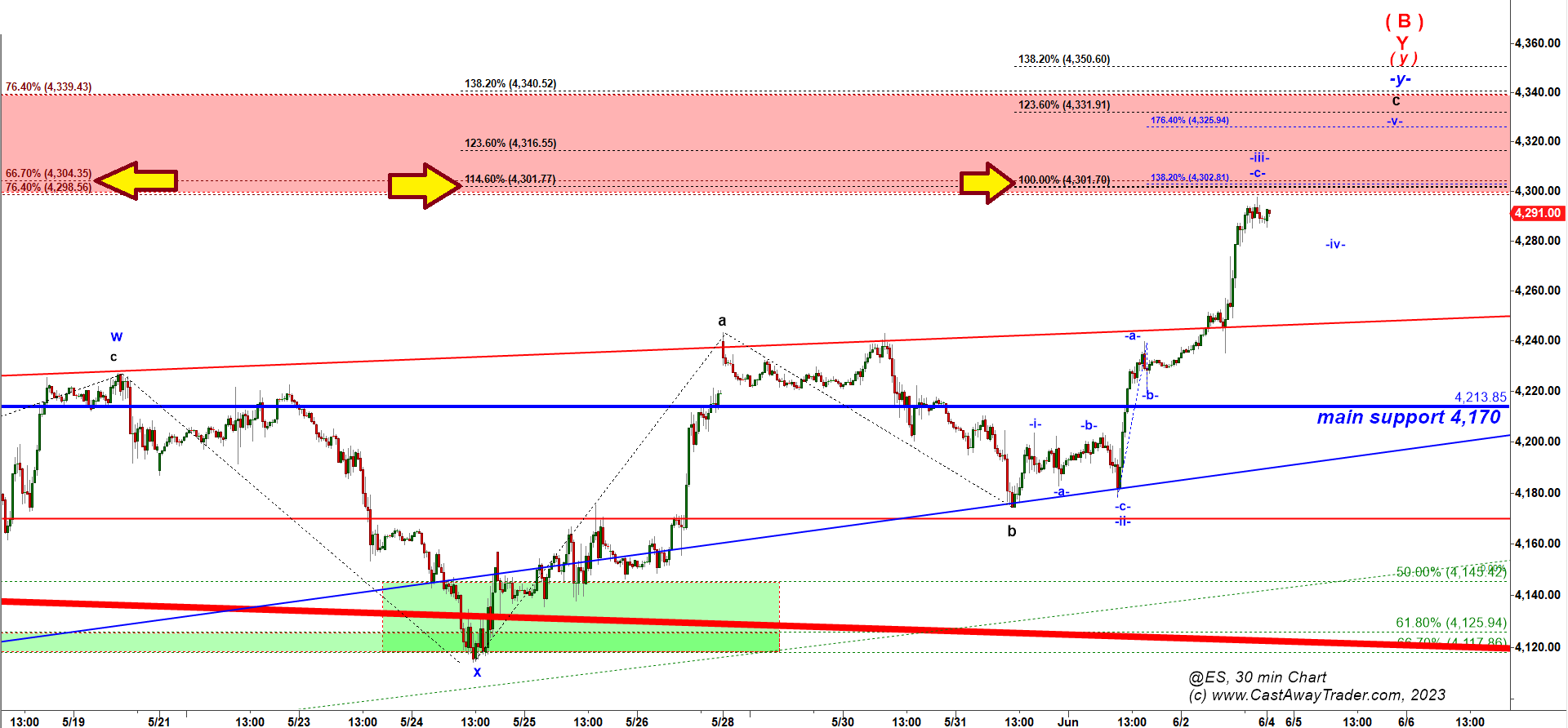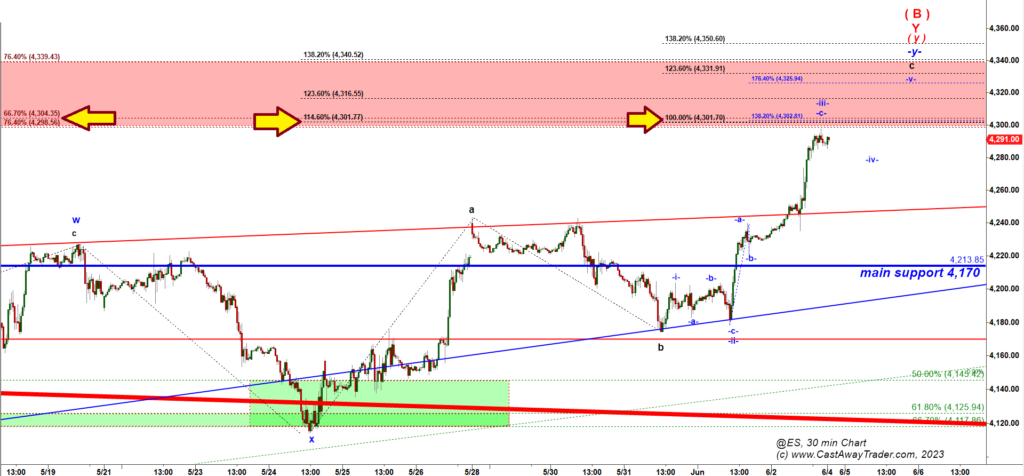 Note the tight cluster of extensions fibs located at 4,300. Moreover, 4,300 is where bulls failed in August 2022. Therefore bears have an opportunity to play a pullback off that resistance at 4,300 by triggering failed breakout setup by allowing bulls to push ES slightly over 4,299.75, the Aug'22 top but then pushing it back under that important resistance. But I would not expect bears to push ES lower than 4,275-4,265 in that micro pullback. Upon completion of that micro pullback bulls could make the final push higher in a micro wave -v- up targeting 4,326 – 4,340.
In conclusion: bulls control the market and can push ES-mini higher one more time before we will be able to entertain a bearish reversal setup.