$ES #ES-mini #trading setup #Elliott Wave #invalidation
This morning I shared my expectation for an a-b-c move up targeting 4,540: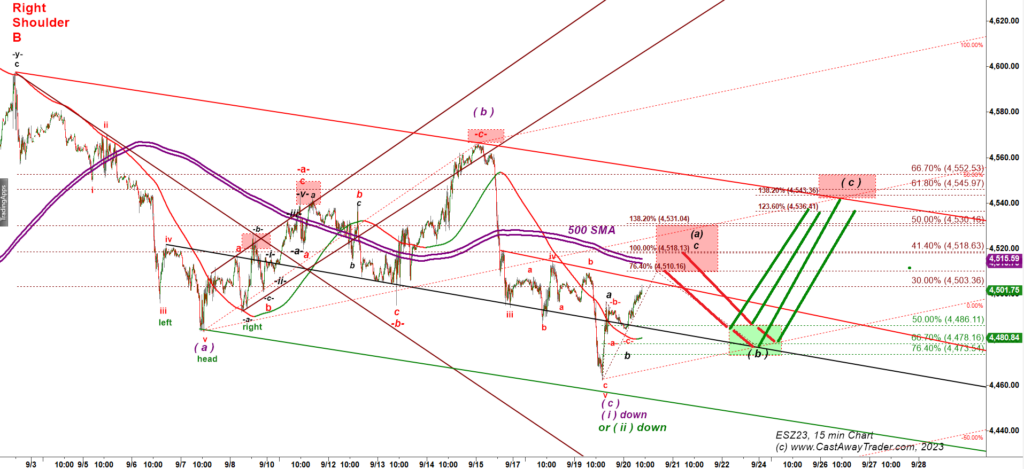 ES-mini followed the path nicely until the press conference of the Chairman Powell that started at 2-30 PM EST. Specifically, the morning rally stalled right under the red box and was followed by a decline down to 4,477. So price dropped right into the Green box as we expected.
That was a great long setup and in a matter of minutes ES-mini popped up to 4,500. That was a quick 30 point gain. At 2-34 PM EST I warned subscribers of my Premium chat room:
"Book part of a profit on that spike. Break under 4,482 would be a red flag for bulls. Set a protective stop for remaining long positions at breakeven".

Bulls had a decent long setup but we only got a 30 point spike. Yesterday and this morning I warned you
"Please remember, on a FOMC day we can get 5-6 large intraday swings. Trade small, trade responsibly."
The triangle shaped consolidation we discussed yesterday and this morning got invalidated: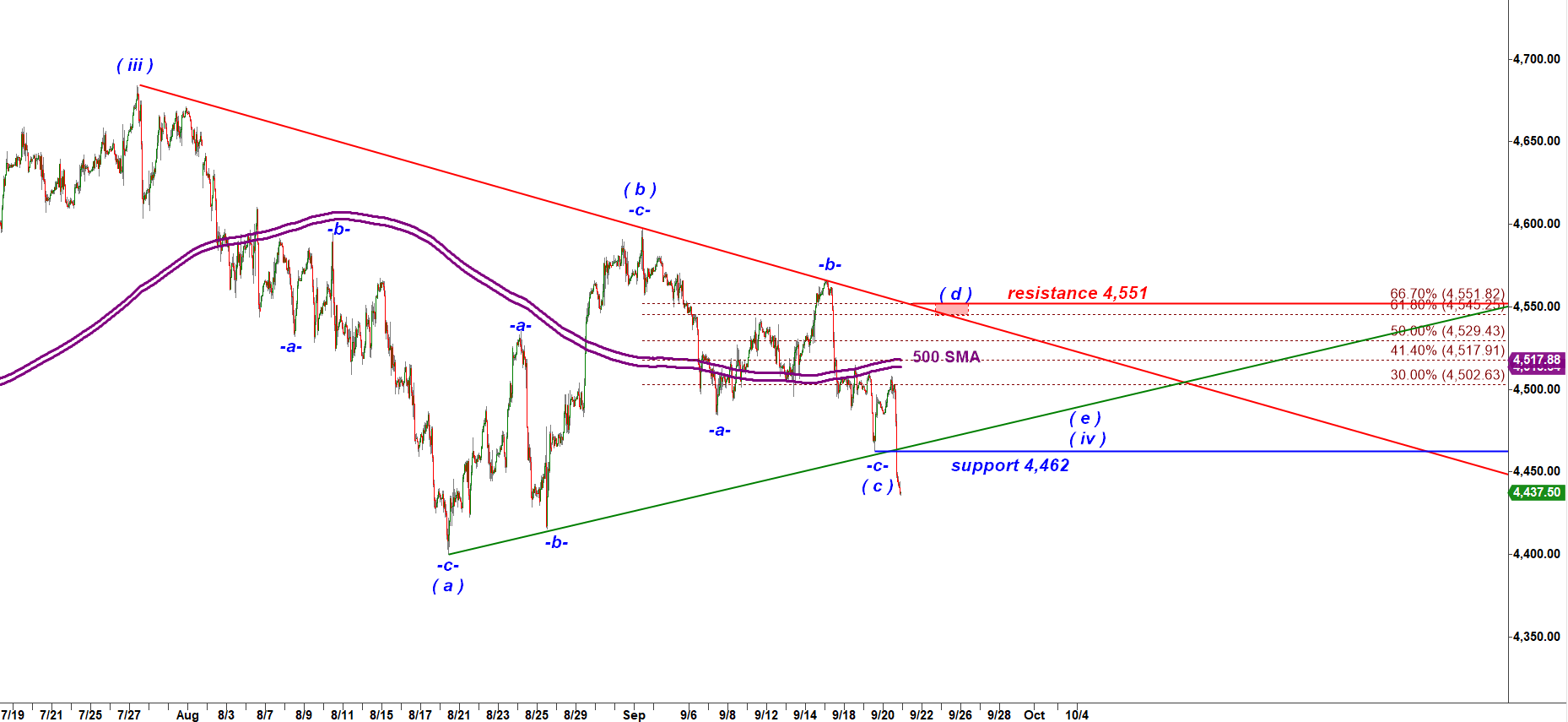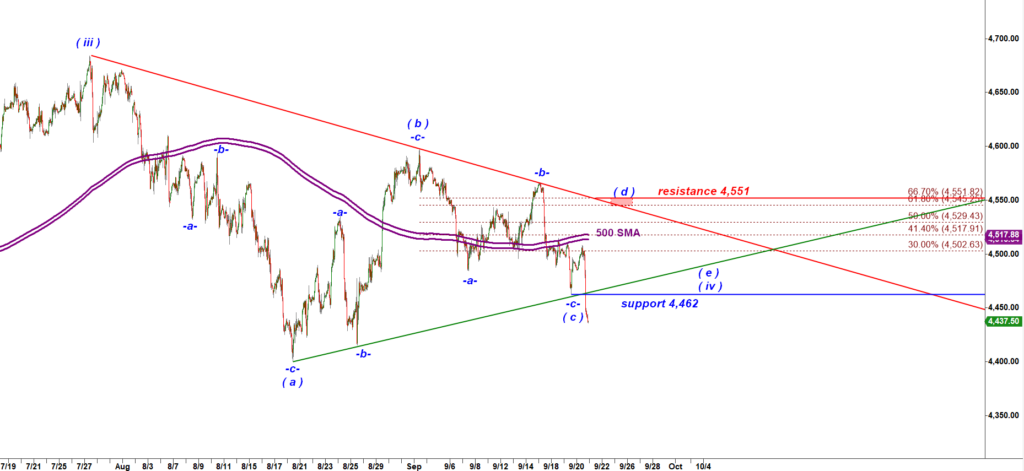 Now the broken support 4,462 becomes a strong resistance. I would consider any pullback back up to the green trend line testing it from below as an attractive short setup.
Now let's discuss how we can count S&P and ES-mini after that drop: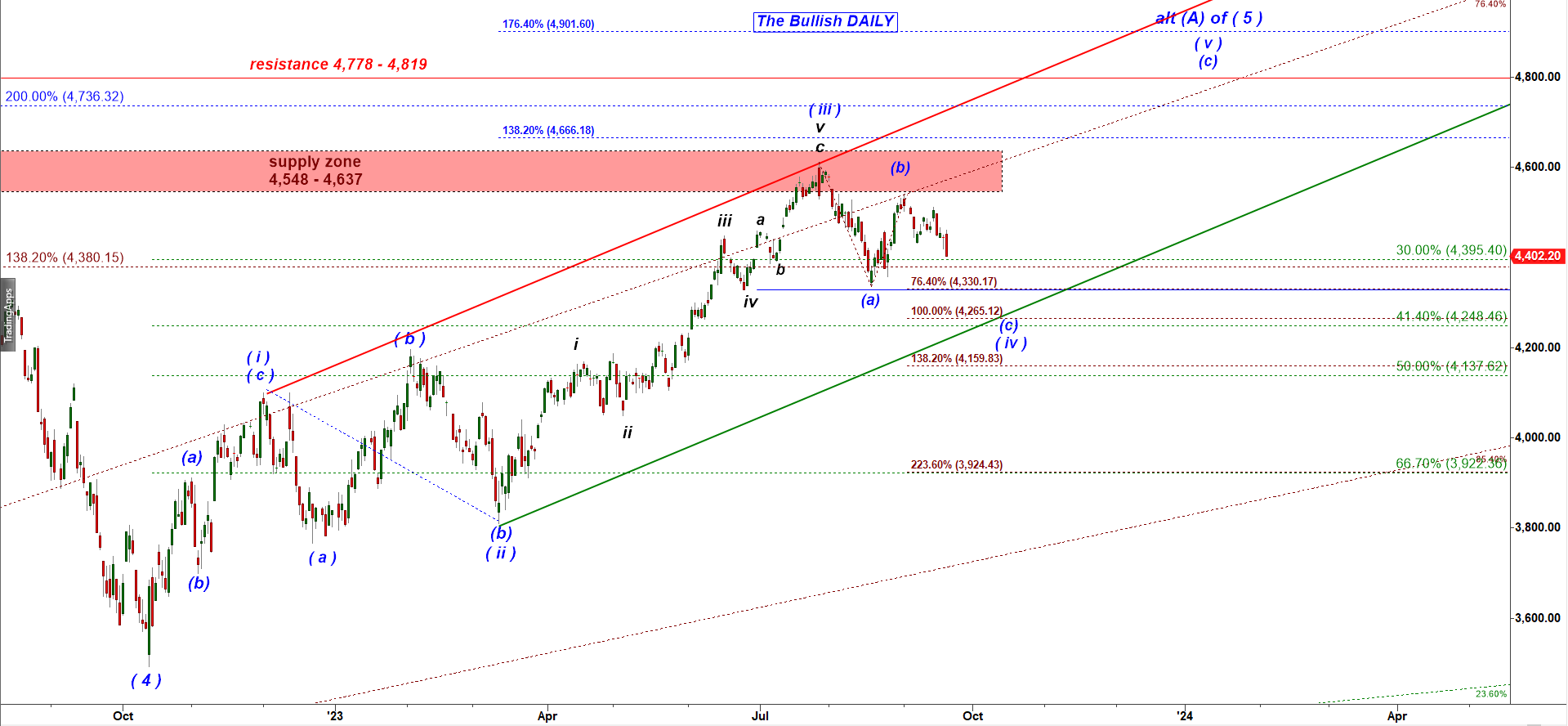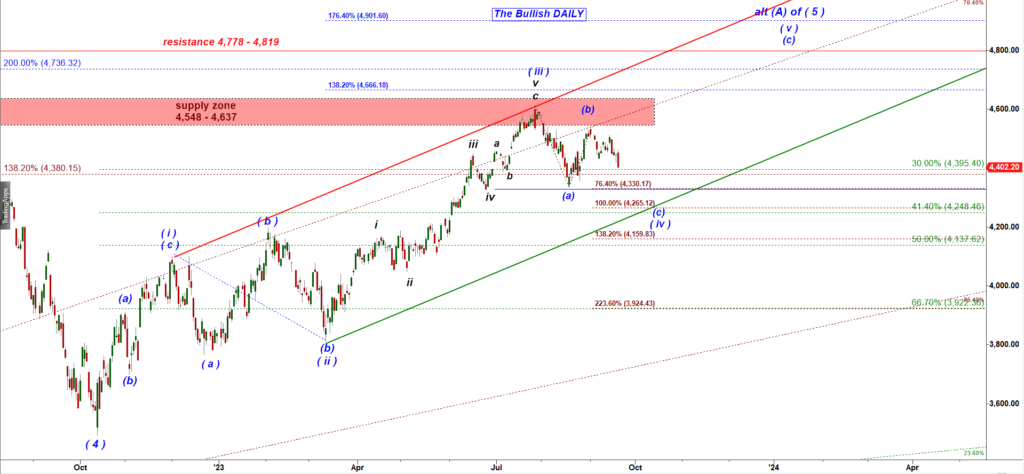 The only hope for bulls is atht this decline is a subwave (c) of a large corrective wave ( iv ) down.
But even under that "bullish" count this leg down may decline by another 135 points to 4,265 or even lower.
Let's look at a potential micro path on a 15 min chart below: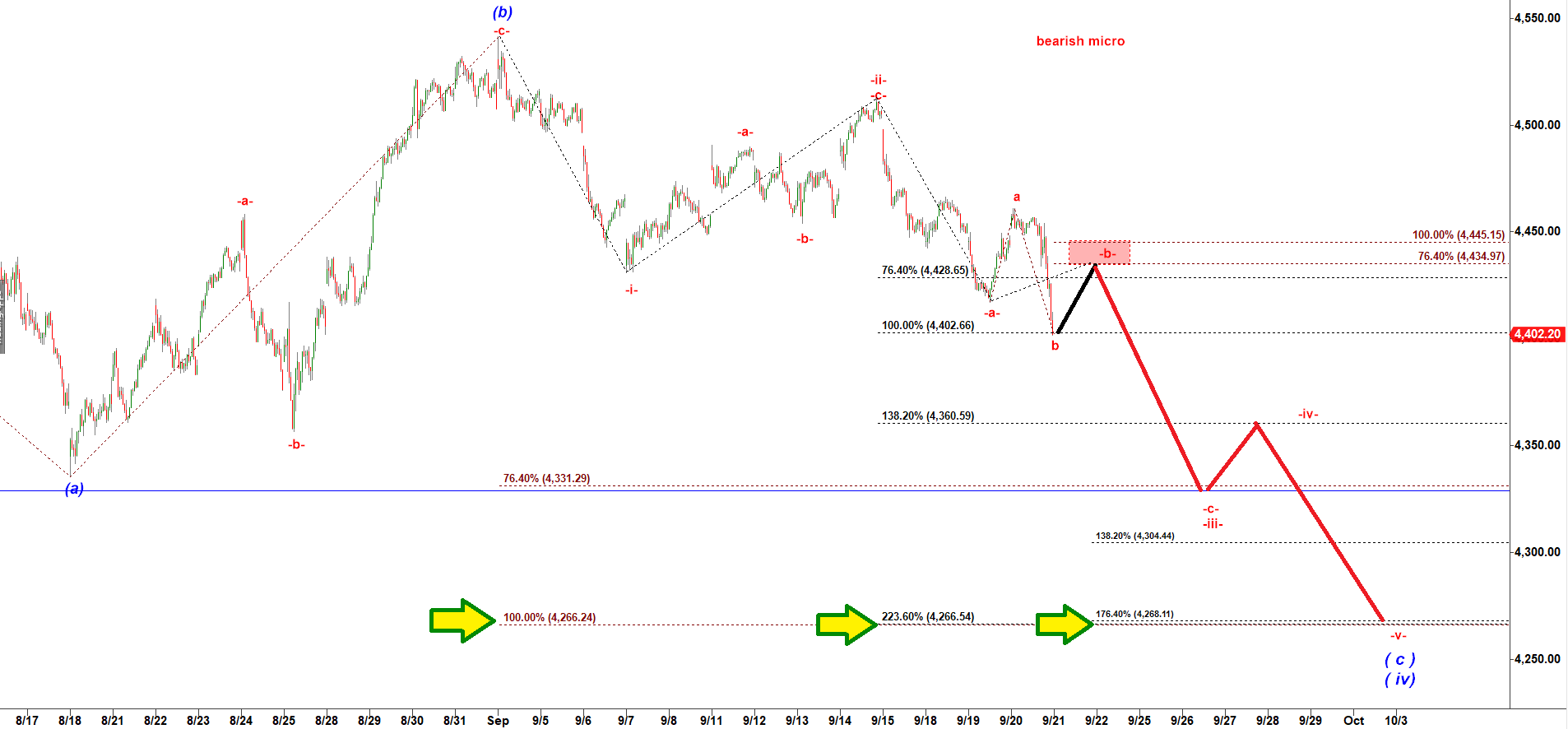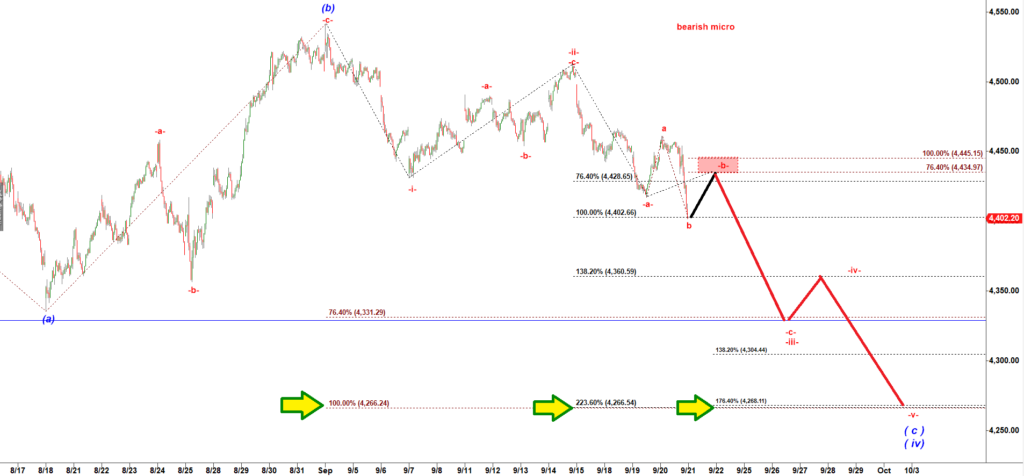 The second leg down, the wave (c) in any (a)-(b)-(c) down corrective structure quite often comes as a strong impulsive move. Therefore it can keep tanking without large pullbacks. In theory, trading gods can send us a gift in quick bounce tomorrow if we assume that the subwave -b- up has not completed yet.
Now lets look at a more complicated structure of the decline in ES-mini futures.
It's amazing but ES-mini replayed the very same crazy whipsaw consolidation from Aug 8-10: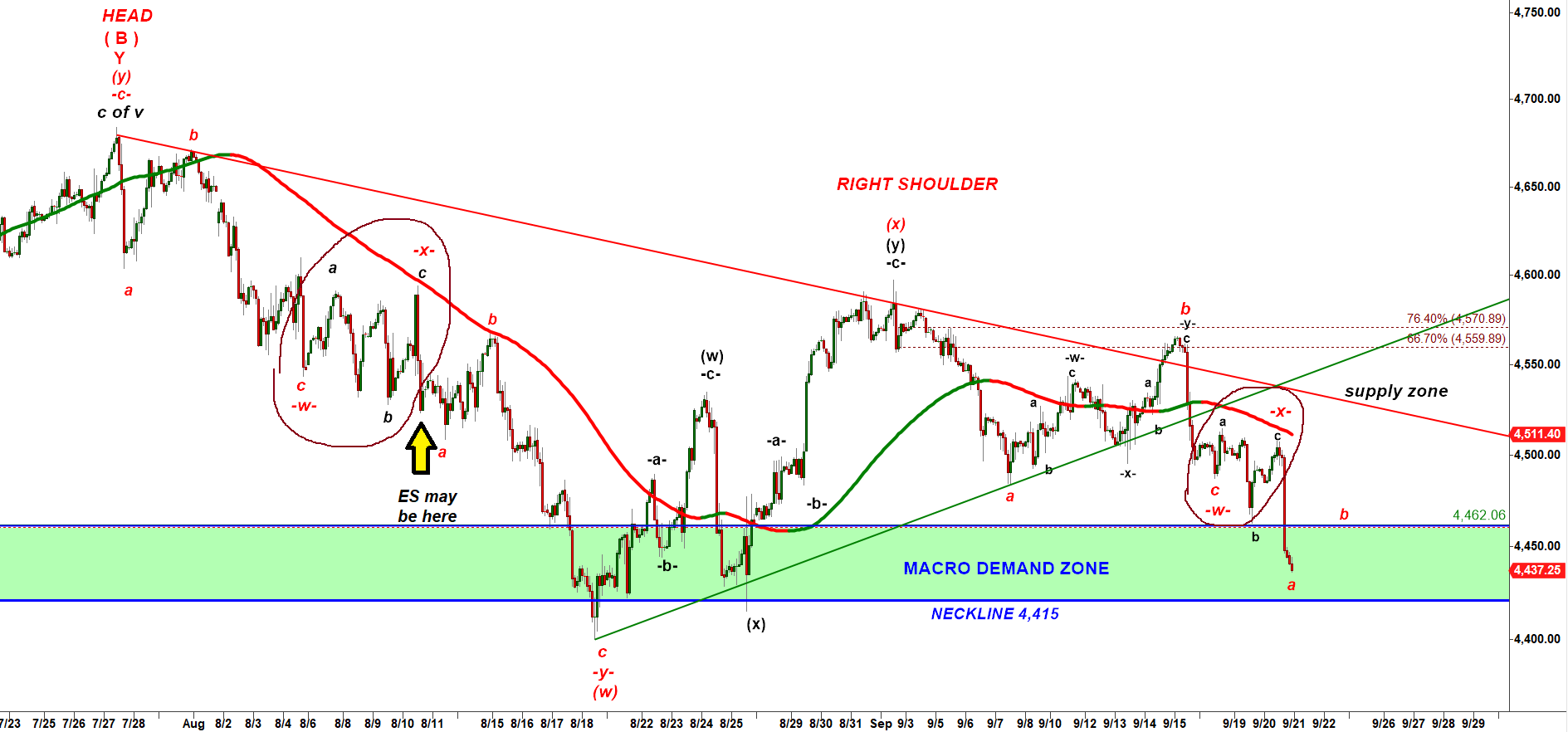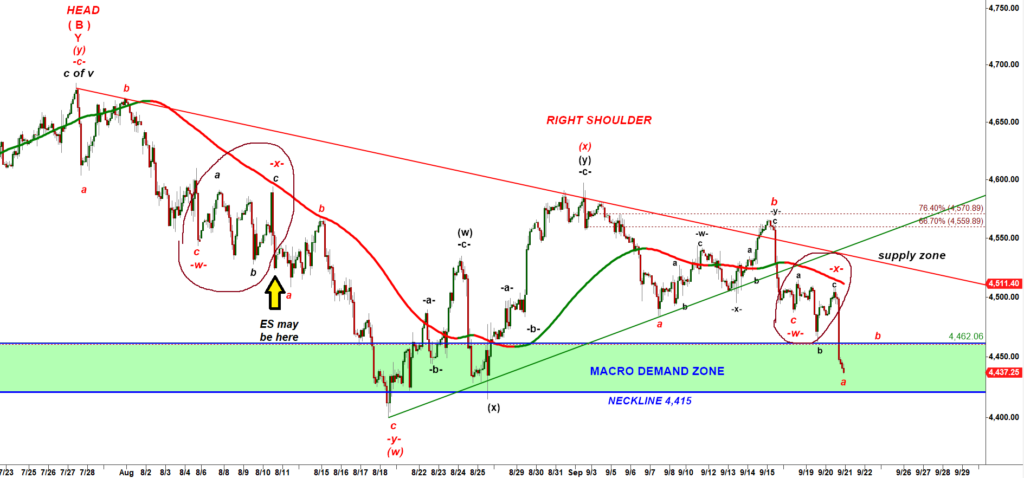 Just compare two circled segments. They show pretty much identical whipsaw.
If ES-mini keeps following the same fractal, we can get a bounce in a subwave b up of the wave -y- down followed by a strong dive in the final subwave c of wave -y- of (y).
Again, trading gods can send us a gift in quick bounce on Thu/Fri that can be used a short setup to ride the final "capitulation" type accelerated decline.