$ES #macro #weekend #trading setup
In this update we will review in details our primary bearish count and discuss a potential path for upcoming week that could bring volatility to the market.
The bonus of the update is discussion of an alternative bullish count watched by perm bulls.
According to the Bearish count ES completed a corrective (w)-(x)-(y) up structureof a larget wave Y of (B) up: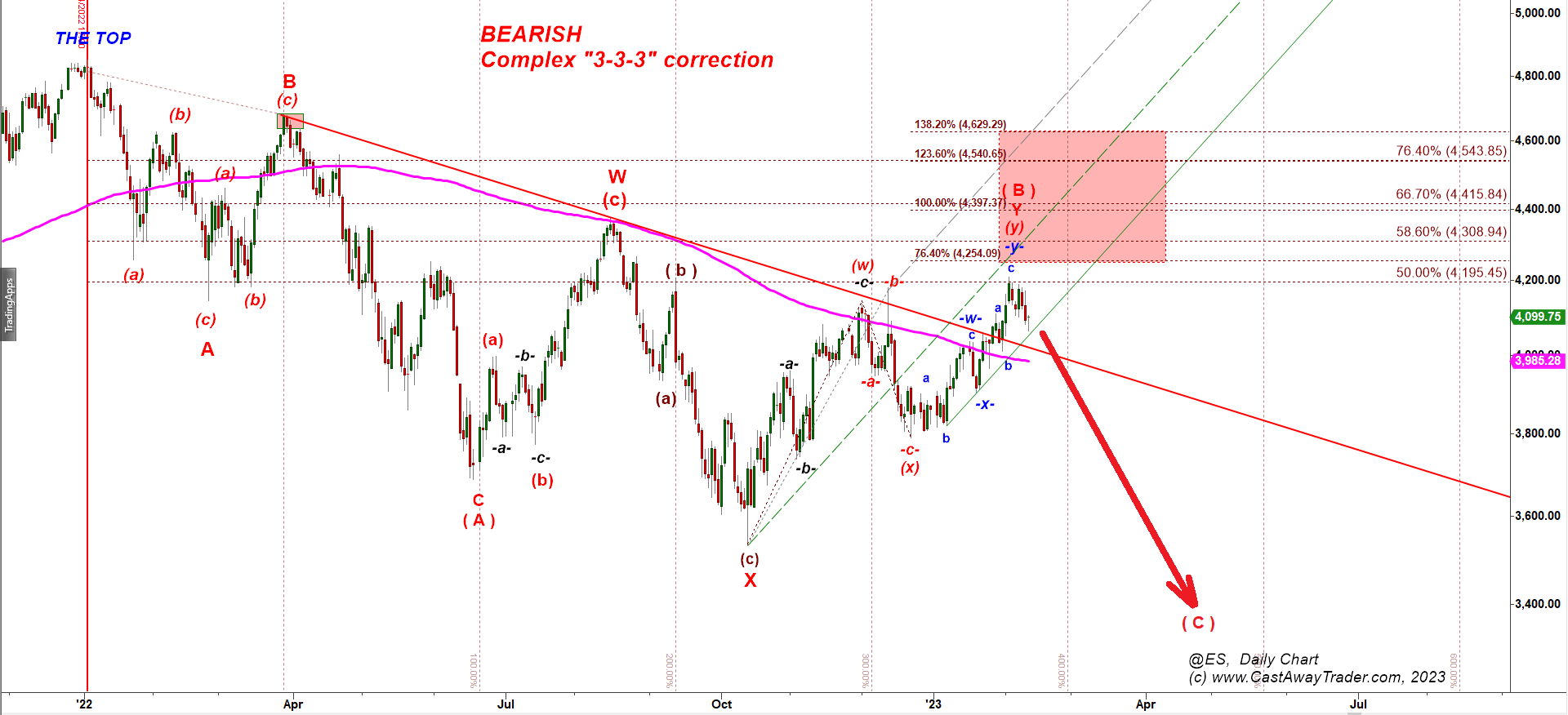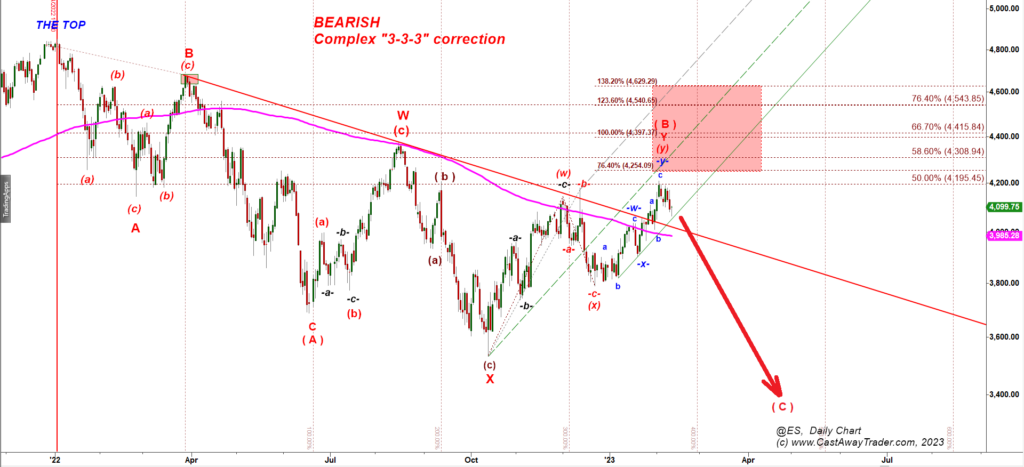 However, ES-mini has not broken down any significant support yet.
Let's zoom-in to a micro 30 min chart to discuss the next two important support levels in details:
The Bearish count argues that ES made a lasting top in a large corrective wave (B) up that should be followed by a large five wave down structure or by a combination of several a-b-c down structures.
I count the move down off the high made at 4,208.50 on Feb 2, 2023 as the first a-b-c down move off an important top. That a-b-c move down could become either a micro wave i down or some -a- down.
That means that decline should be followed by a corrective a-b-c up pullback retracing from 60% to 66.7% of the first a-b-c move down:
We can outline two previous lows that are important support levels that have to be broken:
(i)
The first low is 4,048.50. That is the Monthly Support.
This is where bulls will get the first chance to turn the market up.
As always, we will be watching for violation of a previous low followed by its reclaim of that level triggering the "failed breakdown" long setup.
(ii) the main support that has to be broken by bears to confirm that primary bearish scenario is 4,007.50, the low made on Jan 31, 2023.
Please note, that CPI release on Tuesday morning will most likely be able to trigger a wild volatile trading session. This is what could make possible for a corrective wave ii up to unfold (see the green path to the Red Target box).
Bonus: Part 2: What perm bulls see here.
Until bears violate an important support 4,007.50 bulls may reasonably ague that this decline is yet another pullback to be followed by another push higher over 4,200.
If bears fail to break the first support 4,007 (the low made by the previous pullbacks) bulls can start pushing again. Note that the pullback we got last week stopped right at 200 MA on 120 min timeframe (the pink line). Here you can see how important that 4,000 support is. If bears stop right here, then bulls will be able to push ES higher up to 4,377-4,400.