$ES-mini #trading setup #i down – ii up setup
This is the macro picture:
We are getting a corrective a-b-c consolidation UNDER the broken support 3,945. The ideal scenario for bears is to let bulls come back up in an a-b-c corrective fashion in desperate attempt to reclaim that important support.
I expect that bulls will fail at that level (if they manage to extend the Thursday afternoon bounce that high).
This morning I shared with you that micro path: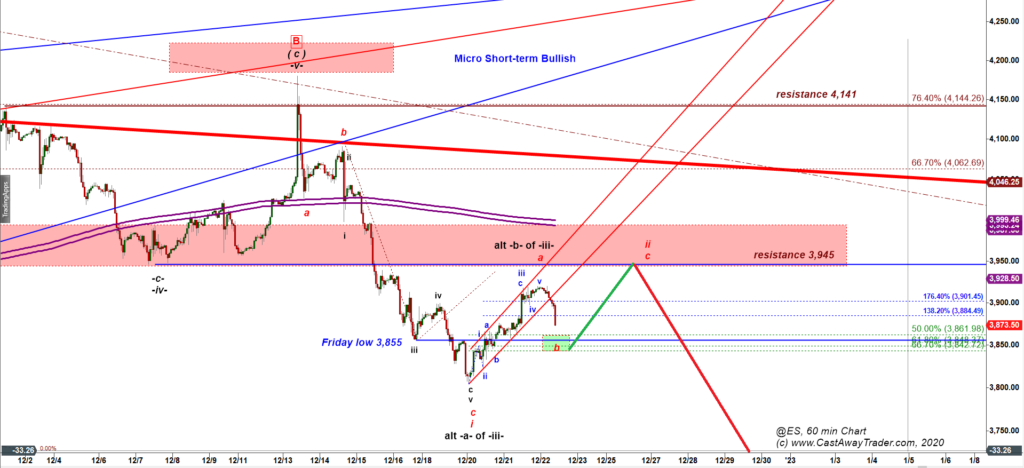 Price dropped lower that I expected. It undercut the previous low but then managed to reclaim that important level of support at 3,803.25 and produced a strong bounce into close of the day.
Now we have two main micro scenarios for tomorrow.
(i) a wave ii up shaped as the Running Flat corrective structure:
under the Running Flat structure subwave c up will make a lower high in comparison to the high made by subwave a up (3,919.75). It can top at 76.4% or 100% extension of subwave a up = 3,878 – 3,905.
(ii) Expanding Flat structure:
The Expanding Flat structure is even trickier because after a strong drop in subwave b downm subwave c uo comes as even a stronger rally.
Under the extreme tricky Expanding Flat structure we can get a rally up to 3,945 – 3,950 where the whole a up, b down, c up corrective structure of a wave ii up would be completed.
Regardless of the micro path, as long as bears hold ES-mini under 3,950 the next big move should be a strong decline in a micro wave iii down targeting new lower lows under the October 2022 lows (see the Daily chart above).